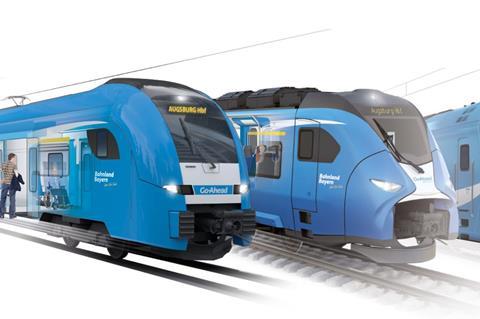 GERMANY: Bayern's Ministry for the Interior, Building & Transport has granted the Go-Ahead Bayern subsidiary of the UK's Go-Ahead Group a train operator's licence.
'A very important step has been taken', said Go-Ahead Bayern Commercial Director Bastian Goßner on August 17. 'We are on the right track and our team is very committed. I am confident that from December 2021 we will be able to offer passengers and the region safe, reliable and comfortable rail transport.'
In August 2018 Bayern railway agency BEG selected Go-Ahead for the E-Netz Allgäu contract to operate München – Memmingen – Lindau services for 12 years from December 2021.
This was followed in December 2018 by the selection of Go-Ahead for the Augsburger Netze Lot 1 contract which covers the operation for 12 years from December 2022 of services on the Ulm – Augsburg – München, Würzburg – Ansbach – Treuchtlingen – Donauwörth – Augsburg and Aalen – Nördlingen – Donauwörth routes.
The future operator has ordered a total of 78 electric multiple-units from Siemens Mobility and Stadler for use on these services.