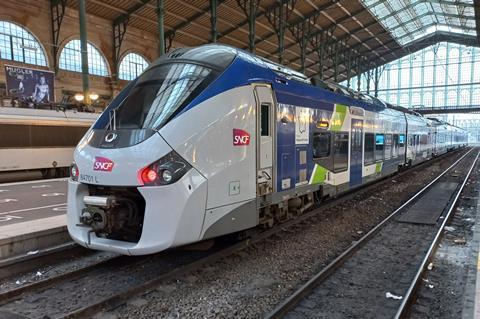 FRANCE: Incumbent SNCF Voyageurs has beaten a rival bid from Transdev to win the Hauts-de-France région's first competitively tendered contract for the operation of passenger train services.
The contract announced by the regional authority on March 30 runs for nine years from December 2024, and is expected to generate revenue of €500m for SNCF Voyageurs.
It covers the operation of Etoile d'Amiens services radiating from Amiens to Abbeville, Rouen, Saint-Quentin, Le Tréport (reopening a line closed in 2018), Albert, Creil and Laon, as well as the Creil – Beauvais, Beauvais – Le Tréport and Laon – Hirson lines. This represents 17% of the train-km operated in the Hauts-de-France région.
The région's Executive President of Transport Franck Dhersin told Railway Gazette International that SNCF Voyageurs' bid had been evaluated as the best in all aspects, notably for staffing.
The punctuality target will be increased to 98·5%, with higher financial penalties for delays and for short-formed trains; the penalty for operating short trains will increase at peak times.
Dhersin said the région would end the contract if the targets are not met for two consecutive years.
SNCF Voyageurs commented its offer was 'robust, competitive and customised' for Hauts-de-France. It will create a subsidiary to operate the services, with a dedicated operating centre in Amiens and existing staff transferring across. Stabling facilities on the network will be reconfigured.
The rolling stock will be owned by the région and maintained at a depot in Amiens which is to be transferred to Hauts-de-France-Mobilités, a local company owned by the regional authority.
Hauts-de-France has also called three other tenders for the operation of its remaining regional services, trains to Paris and the TER-GV regional services operated using high speed trainsets.