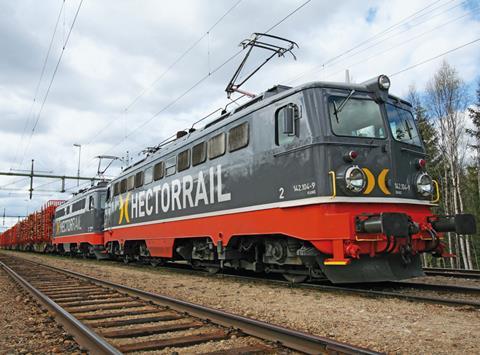 SWEDEN: Skandinaviska Jernbanor has appointed Hector Rail to provide traction for and manage the operation of its Stockholm – Göteborg Blå Tåget passenger service, leaving the promoter to focus on customer service aspects.
Skandinaviska Jernbanor launched its open access Blå Tåget service between Göteborg, Stockholm and Uppsala in December 2011, using refurbished 1960s coaches and focusing on a high quality passenger experience. However, services were suspended after transport agency Transportstyrelsen withdrew the company's safety certification in July this year, citing concerns about staff training, safety monitoring and risk management.
The five-year contract with Hector Rail announced on October 10 will enable services to restart from December 11. Hector Rail will operate an initial 13 round trips per week, including five with the lower specification Gröna Tåget which was launched earlier this year. There is provision in the contract for the number of services to be increased in the future.