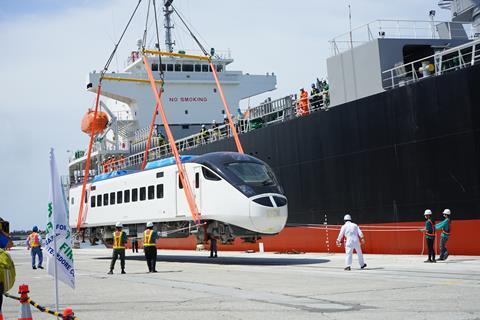 TAIWAN: The first of 50 EMU3000 inter-city trainsets being built for Taiwan Railway Administration by Hitachi was delivered to the port of Hualien on July 29, and is expected to enter service by the end of this year.
The 12-car trains have been ordered for use on TRA's east coast main line connecting Taipei, Hualien and Taitung. The longer units will provide a 40% increase in capacity compared to the eight-car Puyuma and Taroko EMUs which currently operate express services on the route, Transport Minister Wang Kwo-tsai explained during the delivery ceremony, which was also attended by Japan's deputy representative in Taiwan Hoshino Mitsuaki.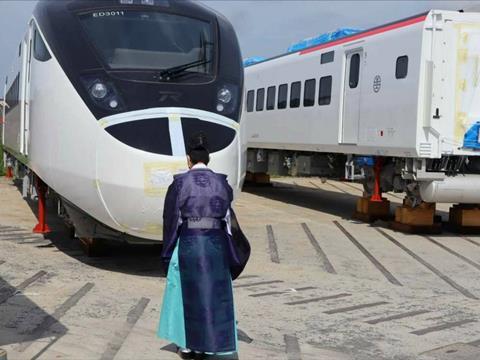 Being procured for TRA by Bank of Taiwan, the 1 067 mm gauge EMU3000 units were ordered in January 2019 at a cost of NT$44·3bn. The 50 trains are due for delivery in several batches, with seven trains expected to arrive this year, 15 in 2022, 16 in 2023 and the last dozen in 2024. They will replace existing rolling stock that is now more than 30 years old, as well as increasing capacity to cope with growing demand on the east coast route following the completion of the round-island electrification.
The first EMU3000 sets had been scheduled to arrive in June, but deliveries were postponed as a result of the coronavirus pandemic and Typhoon In-Fa. TRA now anticipates that three trains will enter service by the end of this year following a testing and commissioning programme overseen by the operator and supplier. TÜV Rheinland Taiwan has been contracted undertake independent verification and validation functions.