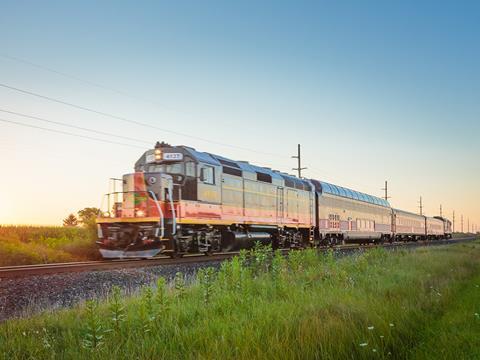 USA: Amtrak is to resume providing rolling stock for the Hoosier State inter-city train between Chicago and Indianapolis with effect from March 1, the Indiana Department of Transportation announced on January 30.
Serving intermediate stops at Crawfordsville, Dyer, Lafayette and Rensselaer, the state-sponsored train operates four days per week each way, providing a daily service in conjunction with Amtrak's tri-weekly long-distance Cardinal, which links Chicago with New York via Indianapolis, Cincinnati and Washington DC.
Following the withdrawal of federal funding for short-distance Amtrak services in 2013, INDOT invited bids for operation of the Hoosier State, backed by contributions from local authorities along the 315 km route. Under a two-year contract which began in August 2015, rolling stock and on-train services have been provided by Iowa Pacific Holdings, although Amtrak continued to operate the trains over tracks owned by the private freight railways, and managed ticketing.
Service enhancements introduced by Iowa Pacific, including an on-board chef, wi-fi and dome-car seating, had driven increased ridership, improved customer satisfaction and higher revenues, but Iowa Pacific President Ed Ellis admitted that performance and punctuality had been a problem.
Although the agreement was due to run until mid-2017, with an optional four-year extension, Iowa Pacific told INDOT that it was 'unable to continue providing passenger train equipment and on-board services under the terms of its existing contract'. According to INDOT, the company was looking for a guaranteed monthly payment which was 'outside the budget we had'. However, the state has reportedly agreed to provide an additional $300 000 to support operations until the end of February.
Amtrak will resume providing stock under an interim arrangement, pending the negotiation of a long-term contract. The Hoosier State and Cardinal have traditionally been used by Amtrak to transfer locomotives and rolling stock between its Chicago operating hub and Beech Grove workshops.
INDOT said it expected to continue providing 'certain on-board amenities' including wi-fi and business class seating. However, the level of on-board service would only be finalised after its contracts with Amtrak had been amended.