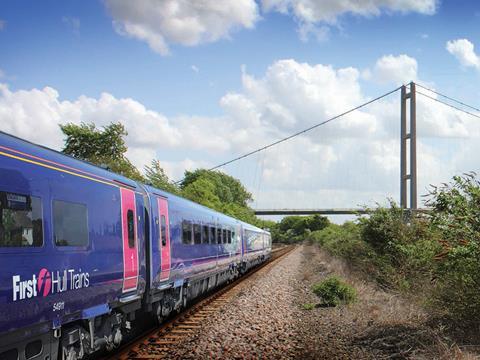 UK: East Yorkshire to London open access inter-city operator Hull Trains announced a £68m plan to order five Hitachi electro-diesel multiple-units on September 3.
These would enter service in 2020, subject to the successful completion of negotiations with infrastructure manager Network Rail and regulator ORR for a new 10-year track access agreement which would start when Hull Trains' current rights end in 2019. A leasing company to finance the order has not yet been selected.
Hull Trains said the five-car Hitachi trainsets would have 320 seats, compared to 266 on its existing fleet of Alstom Class 180 five-car diesel multiple-units. They would be capable of running at up to 225 km/h, subject to line speeds being increased from the current 200 km/h limit.
'The new units will bring an even higher quality environment for passengers with new interiors, enhanced catering, air-conditioning and a quieter environment due to electric traction, all areas that we know are important to passengers', said Managing Director Will Dunnett.
In a message to stakeholders, Dunnett said the track access application included the purchase of the electro-diesel trains because of 'uncertainty around the government's plans for electrification of the Trans-Pennine route.'
Hull Trains is involved in the development of plans for electrification of the route from Hull to the East Coast Main Line, but 'the bi-mode units deliver the benefits of electrification now', said Dunnett. 'They also ensure that we can continue to serve stations such as Beverley after electrification of the Hull to Selby track is completed. The dual-function of the units also means that we can keep passengers on trains during disruption, which we would not be able to do in fully-electric units.'
Will Dunnett explained what lies behind Hull Trains' success and its proposals for privately-financed electrification in the May 2014 issue of Railway Gazette International, which subscribers can access in the digital archive. For in-depth coverage of the UK rail sector, subscribe to Rail Business Intelligence.