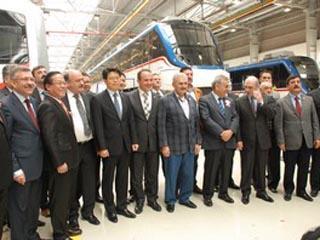 TURKEY: The IZBAN suburban rail joint venture of Izmir Metropolitan Municipality and state railway TCDD has awarded Hyundai Rotem a YTL340m contract to supply 40 electric multiple-units to accommodate growing ridership in Turkey's third most populous city.
The EMUs will be manufactured in Turkey by the Hyundai Eurotem joint venture of Hyundai Rotem and local partners for delivery from February 2014. The Korean firm said this local content helped its bid come in lower than rival offers from Spanish firm CAF, which has previously supplied 33 three-car EMUs to IZBAN, and China's CSR Zhuzhou.
Hyundai Rotem said it has now won orders to supply Turkish customers with around 1000 EMUs, DMUs, LRVs and electric locomotives with a total value of $1·8bn, and it is now planning to use Turkey as a base for supplying Egypt, Sweden and 'other areas around the region'.
'Hyundai Rotem and TCDD have achieved win-win development through their deep bond of brotherhood based on trust,' said Hyundai Rotem President & CEO Min-ho Lee when the Izmir EMU contract was signed on March 17. 'Hyundai Rotem will return friendship, trust and respect to Turkey by demonstrating the highest quality and the state-of-the-art technology in this Izmir EMU project.'
Eurotem General Manager Kim Jeong-Hoon described the company's expansion plans in the April 2012 issue of Railway Gazette International, which subscribers can access in the digital archive.