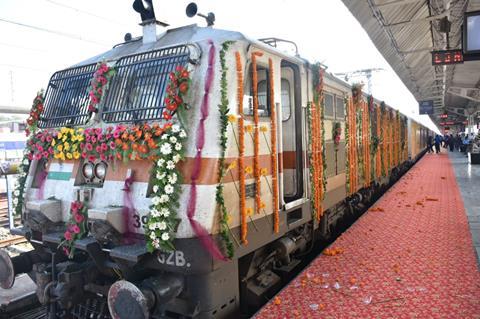 INDIA: Confirming its intention to work with private operators to address a shortfall in passenger capacity, the Indian Railway Board issued requests for qualification on July 1 for 35-year concessions to operate private trains on the national network from 2023.
IR currently operates around 13 500 passenger trains per day which carry around 23 million people. It estimates that the unmet demand could fill a further 7 000 trains per day, but capacity constraints mean that it has been losing market share to other modes, notably airlines. It is looking to find private partners to procure and operate additional trains between core city pairs, making use of capacity freed up by the opening of the dedicated freight corridors and other enhancement works.
The IR Board has long been looking at PPPs as a way of harnessing private investment to reduce its dependence on borrowing, but in the 2019-20 financial year PPPs only raised 18% of its Rs1·6tr of 'extra-budgetary resources' against a planned 33%. The railway has since unveiled a Rs50tr infrastructure investment programme for 2021-30
The Ministry of Railways issued a concept paper earlier this year seeking feedback on the private train proposals, but the bidding timescale has been set back by the coronavirus pandemic. According to IR Chairman V K Yadav, the bidding process is now expected to be finalised by April 2021, and 'we are expecting that the private train operations will begin by April 2023'.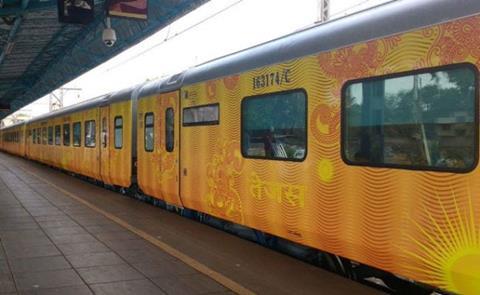 The RFQ identifies 109 city pairs which have been grouped in 12 clusters. The private operators would be expected to procure, operate and maintain a fleet of 151 trainsets of at least 16 coaches each, at an estimated cost of Rs300bn.
A two-stage bidding process is envisaged, with the initial request for qualification to be followed by a request for proposals from the shortlisted bidders; the winners would be selected on the basis of highest revenue share. Domestic or international entities are eligible to bid, providing that they can demonstrate a 'minimum technical capacity of Rs27bn' over the last five years. Among organisations reportedly expressing interest are Adani Ports, MakeMyTrip, RK Catering and airlines IndiGo, Vistara and SpiceJet.
Access to the network will be provided by IR on payment of fixed charges as specified in the bidding documents. The private operator would also pay haulage charges, but would be responsible for maintaining the trains at suitable locations.
The concessionaires would have the right to collect market-linked fares, and the flexibility to determine the composition of the trains in terms of classes of travel as well as the intermediate stopping patterns. They would be expected to provide differentiated and value-added customer services. The idea is that the modern rolling stock would provide faster journey times, improved safety and a better travelling experience.
The IR Board says it is 'technology agnostic' regarding the use of loco-hauled trains, fixed formation trainsets or multiple-units, provided that they meet the specifications and standards laid out in the concession agreement and are able to run at a maximum speed of 160 km/h. It expects the majority to be locally manufactured in line with the government's 'Make in India' policy.