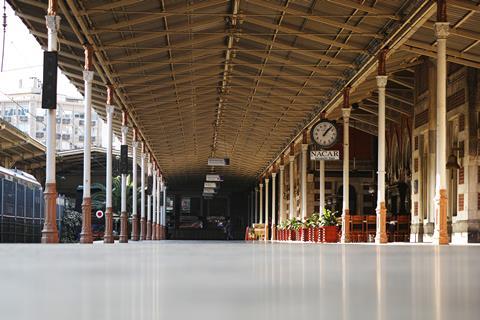 TURKEY: The Ministry for Transport is to call tenders for the reopening of the 8 km section of railway into Istanbul's historic European terminus at Sirkeci.
The double-track main line was cut back in 2013 to allow construction of the cross-Bosporus Marmaray commuter link, which diverges from the traditional alignment in the suburbs at Kazilçeşme and runs underground to deep-level platforms below Sirkeci before continuing to the Asian side of the city. Inter-city trains now terminate at the Marmaray interchange at Halkalı to the west of the city.
The surface line between Kazilçeşme and Sirkeci was initially used for stabling Marmaray EMUs pending completion of the cross-Bosporus link, but is currently out of use. A previous tender for reopening was held in 2018, but was subsequently cancelled due to the omission of maintenance facilities from the project specifications.
The ministry anticipates that one track should be reopened, with the other removed to provide space for a cycle path and running track. Six of the seven historic stations would be reopened, while that at Kocamustafapaşa would be replaced by a new stop closer to a nearby teaching hospital.
As the line runs parallel to Istanbul's 1 500 year old Byzantine sea walls, and passes through them at two points, the ministry envisages that a revived service could appeal to tourists as well as local commuters. A half-hourly service would be operated using vintage rolling stock.
Efforts by Istanbul Municipality to take over the route and incorporate the line into the city's metro and tram networks have been repeatedly rebuffed. The reopening project could potentially be engulfed in the ongoing 'turf war' between the ministry and the opposition-controlled municipality ahead of the presidential and parliamentary elections scheduled for 2023.