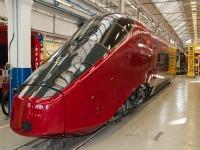 ITALY: Open access high speed trains will begun running between Napoli and Milano on April 28, operator NTV confirmed on March 30. The company says its investment of €1bn will offer passengers 'the first choice of who they travel with' over the country's high speed network.
NTV will initially start with services on the Napoli – Roma – Firenze – Bologna – Milano corridor, but hopes to extend its network to Salerno, Torino and Venezia by the end of the year, when its entire fleet of 25 Alstom AGV trainsets will be available. The company indicated earlier this year that it hoped to begin running 'before April', but that was dependent on getting final approvals, clarifying track access agreements, commissioning sufficient trains and completing staff training.
Fares and timetables will be announced on April 12, when tickets for the first services will go on sale. When the interior designs for the Italo trainsets were unveiled at its Nola depot in December, NTV revealed that it was planning to offer three levels of service – Smart, Prima and Club, together with a free wi-fi throughout and an onboard Smart Cinema in one coach.
NTV said in December that it planned to adopt an 'aggressive' pricing policy, with book-ahead discount fares and compulsory reservations. Tickets will be available via the website www.italotreno.it a telephone call centre and travel agencies as well as self-service machines and Italo 'service centres' at all stations. Some tickets will also be sold on board the trains.