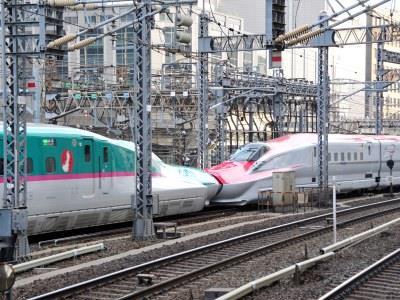 JAPAN: With the launch of its new timetable on March 16, East Japan Railway began regular operation at 320 km/h between Utsonomiya and Morioka on the Tohoku Shinkansen, using its Series E5 trainsets. This is currently the fastest permitted speed for revenue services in Japan.
Derived from the Fastech 360 experimental trainsets, the Series E5 sets were specified to run at 320 km/h, in order to bring the Tokyo - Shin-Aomori journey time down to 3 h 5 min. Following the unveiling of a prototype at Sendai in June 2009, the production build of 10-car trainsets began entering service on Hayabusa services between the two cities on March 5 2011.
The trains were initially allowed to run at 300 km/h, but plans to increase speeds on the Tohoku Shinkansen by the end of 2011 had to be postponed after the Great East Japan Earthquake. Since then the trains have been limited to a maximum of 275 km/h.
To date, around 25 of the 59 Series E5 sets on order from Hitachi and Kawasaki have been delivered, allowing the last of JR East's original Series 200 trainsets to be taken out of service with the timetable change.
The timetable change also saw the start of revenue operation using the Series E6 Super Komachi trainsets on mini-Shinkansen services between Tokyo and Akita; the first train was ceremonially dispatched from Tokyo station on the morning of March 16. The seven-car Series E6 trainsets operate in multiple with Series E5 units operating Hayate trains between Tokyo and Morioka, but are currently limited to 300 km/h.