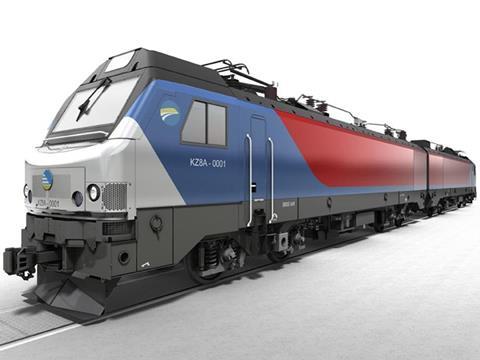 KAZAKHSTAN: The Chairman of state railway Kazakhstan Temir Zholy, Askar Mamin, signed a €1·3bn firm order for 295 electric locotives with Alstom and Transmash Holding when President Nursultan Nazarbayev visited French President Nicolas Sarkozy in Paris on October 27.
The order covers 200 KZ8A twin-unit freight locomotives and 95 KZ4A single-unit passenger locomotives, which will be supplied by the specially-formed EKZ joint venture of KTZ (50%), Alstom (25%) and THM (25%).
Some components will be produced in Russia by the Alstom-TMH strategic partnership which was formed in 2009 to target the 1 520 mm gauge market, making this the first non-Russian order for the partnership.
The 25 kV AC locomotives will incorporate Alstom traction technology and will be designed to operate at temperatures down to -50°C. The passenger locomotives will enable KTZ to operate trains at up to 200 km/h for the first time, cutting 3 h from the 1 335 km journey between Almaty and Astana.
Alstom's Belfort plant will deliver the first freight locomotives in 2012, with the passenger locomotives following from 2014. Work is to begin shortly on a factory in Astana which will produce locomotives locally from 2012, initially using kits supplied from France and reaching a capacity of 100 locomotive sections/year in 2016.
Alstom-TMH electric locomotives for KTZ
KZ8A
KZ4A
Traffic
freight
passenger
Wheel arrangement
Bo-Bo+Bo-Bo
Bo-Bo
Length, m
35
19
Weight, tonnes
200
86
Power, MW
8·8
4·8
Maximum speed, km/h
120
200
Starting tractive effort, kN
833
264
Number ordered
200
95
Delivery
from 2012
from 2014