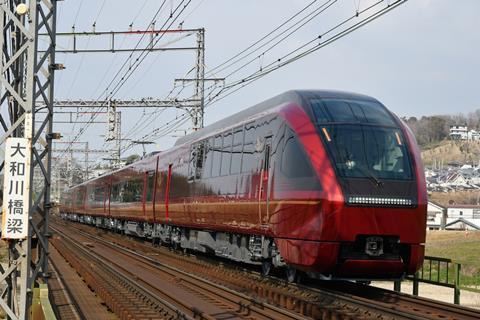 JAPAN: Kinki Nippon Railway has started driver training with the first of 11 Series 80000 EMUs that it has ordered from sister company Kinki Sharyo to operate limited express services between Nagoya and Osaka-Namba.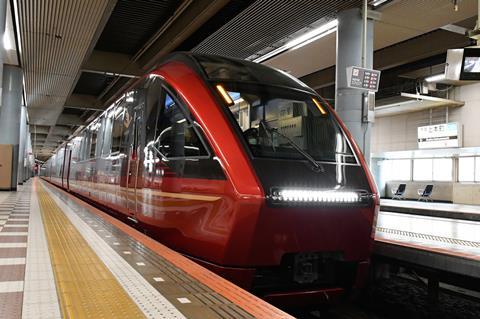 Designed for operation on 1·5 kV DC electrified routes, the 1 435 mm gauge EMUs are branded Hinotori, meaning 'phoenix' in Japanese. They have been finished in a striking metallic red livery with a phoenix emblem. The railway says it hopes the trains will 'fly high like a phoenix', competing with JR Central's Tokaido Shinkansen.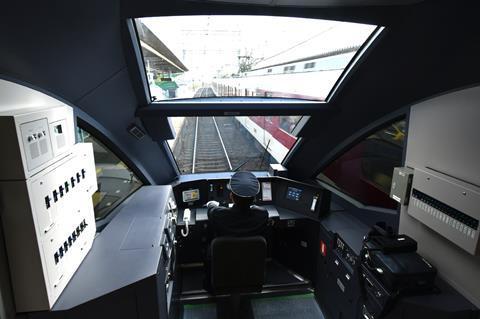 The first unit was delivered in October, and three six-car units are expected to enter service on March 14. These will operate six trains/day in each direction, replacing Kintetsu's existing Urban Liner trains that date from 1988. A further five six-car and three eight-car sets will follow, with some sets being deployed on Osaka-Namba – Nara services.
Journey time between Osaka and Nagoya will be around 2 h, compared to 50 min using the high speed line. Kintetsu has set its end-to end fares at ¥5 240 for premium class and ¥4 540 in standard class, compared to ¥8 950 in Green Car and ¥5 940 for standard class on the Shinkansen.
Formed of 20 m long vehicles, the Series 80000 units have wide bodyshells and large windows to give passengers a clear view of the scenery. Rotating and reclining seats are fitted in both classes, using the 'back shell' design used in Gran Class cars on the Hokuriku Shinkansen. All seats have an adjustable footrest.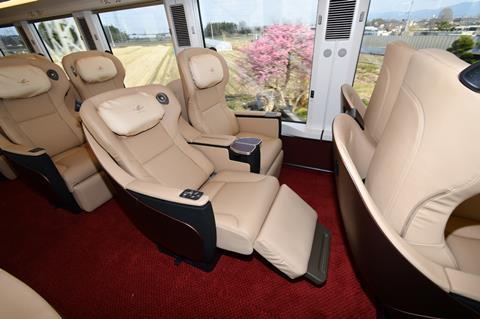 Premium class seats are arranged in a 2+1 configuration and covered with leather; the electric reclining mechanism has a control unit on the armrest. The 1 300 mm seat pitch is said to be the largest in Japan, allowing passengers to recline their seats without impacting on the person behind. Standard class seating uses a 2+2 arrangement, with a pitch of 1 160 mm similar to that for Green Car seating on Shinkansen trainsets.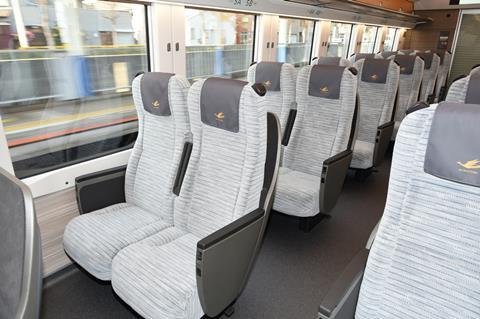 The EMUs have a dedicated wheelchair space, and an accessible toilet with baby changing facilities. An 'observation deck' in each end car has a coffee machine and open plan bench seating. Onboard wifi is installed, along with power sockets at all seats. Secure lockers are provided for storing larger items of luggage. There is a smoking compartment in car 3, while air cleaning equipment is installed in all vehicles.