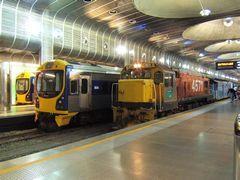 NEW ZEALAND: KiwiRail has shortlisted Hitachi, Hyundai Rotem, Bombardier Transportation and a consortium of CAF and Mitsubishi for the contract to supply up to 38 three-car electric multiple-units to operate Auckland suburban services.
KiwiRail is working with Auckland Regional Transport Authority to procure the 1 067 mm gauge trains as part of the 25 kV 50 Hz suburban electrification programme. Last November the government allocated NZ$500m to fund the new rolling stock.
The suppliers have been asked to provide feedback on the technical specifications before a full request for proposals is issued in August; final bids are to be submitted by November. The winner will be announced late in the first quarter or early in the second quarter of 2011, and the first trains will be delivered for the Eastern and Western suburban lines in 2013.
'The number of responses has reinforced the high level of interest in this [contract], given the relatively small number of suppliers worldwide with the skills and resources to meet the tight timeframes of the project', said KiwiRail Chief Executive Jim Quinn on July 16. There were no New Zealand-led bids, but Quinn said 'All bidders are aware of the capacity for local content here in New Zealand and the full extent to which this is included will be understood in the next step of the process.'