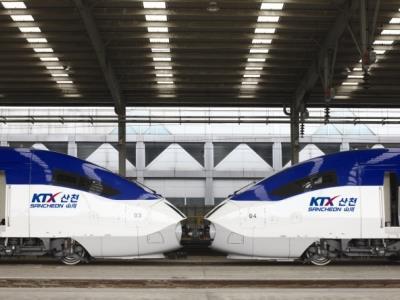 SOUTH KOREA: National train operator Korail marked the successful completion of '100 fault-free days' with its latest five KTX-Sancheon trainsets by presenting a certificate to manufacturer Hyundai Rotem on December 7.
The five additional trains put into service by Korail in August incorporate a number of modifications to address various technical problems encountered by the original build of 19 sets which have been in operation since March 2010. According to the manufacturer, with 24 of the 10-car trainsets now in operation, 'the vehicles and driving system have become stabilised only in 2½ years'.
Amongst the changes, a totally-enclosed electronic contactor has been introduced to avoid dust getting into the train when it is running. Improvements to the automatic coupler allows two trainsets to be joined and separated at intermediate stations, giving Korail more operational flexibility in matching passenger capacity to demand.
The KTX-Sancheon trainsets are used to operate through services on both the Seoul – Busan high speed line and the conventional network. Korail said the modifications had overcome 'several disadvantages', including difficult service conditions caused by 'distinctive seasonal changes' which affect the vehicles, track, signalling and overhead line equipment.
The railway believes that earning public confidence in the technology paves the way for South Korean companies to compete in other high speed rail markets such as Brazil and the USA.