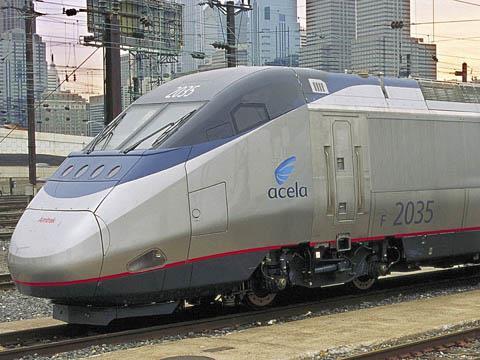 USA: Transportation Secretary Ray LaHood announced further high-speed rail grants totalling US$2bn on May 9, reallocating the funding previously allocated for the Orlando – Tampa project in Florida which was rejected by the state's governor.
According to DoT, 24 states, the District of Columbia and Amtrak submitted nearly 100 applications for the money, which will 'create tens of thousands of jobs, improve mobility and stimulate American manufacturing.' The Federal Railroad Administration selected 22 projects across 15 states, as well as the busy Northeast Corridor, which had not been eligible for earlier grant allocations.
Amtrak will receive $795m to upgrade signalling, power supplies and bridges on the most heavily-used sections of the Northeast Corridor, raising speeds from 220 to 260 km/h on selected segments, improving performance and adding more seats for passengers. There will also be spending on connecting routes to from Hartford to Springfield and Boston to Portland, Maine.
Another $404m is allocated to expand high-speed services in the Midwest. Of this, around half will fund further expansion of 177 km/h operation on the Detroit – Chicago line, cutting journey times by 30 min. the remainder will support the ongoing upgrading of the Chicago – St Louis corridor. FRA has also allocated $336m for new US-built locomotives and coaches to operate in California and the Midwest. A further grant of $300m for the California High Speed Rail Authority will add a further 32 km to the 175 km pilot section in the Central Valley.