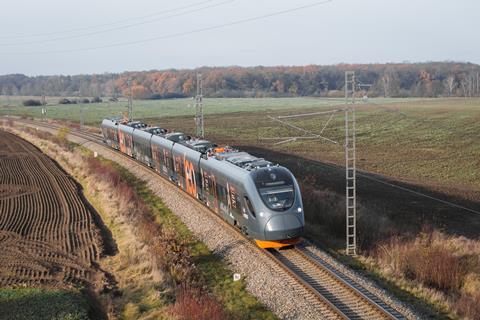 EUROPE: With its first Chinese-built Sirius trainsets moving on to a further phase of testing before entering revenue service next year, Czech open access operator Leo Express is now looking at ordering a multi-system variant capable of operating more widely across Europe.
Leo Express confirmed on November 30 that the first three five-car electric multiple-units supplied by CRRC Zhuzhou Electric Locomotive had 'recently progressed into a further phase of their approval process'. Subject to formal certification under the EU Agency for Railways' unified vehicle authorisation regime, they are expected to enter revenue service next year on routes linking the Czech Republic, Slovakia and Poland.
Unlike the company's original Stadler Flirt EMUs that only operate on 3 kV DC, the Sirius units are equipped to run on the 25 kV 50 Hz and 3 kV DC power supplies used in the three countries.
Leo Express has recently acquired a safety certificate from the Federal Railway Office to operate its own passenger services in Germany, where it formerly worked with other partners under the FlixTrain brand. Pointing out that it was the only Czech passenger carrier to hold a German operating licence, the company said it was now looking at potential business opportunities in that market.
The KCr5bn initial contract with CRRC Zhuzhou includes options to order up to 30 more trainsets, and Leo Express is therefore considering whether any future Sirius EMUs should also be equipped to run on Germany's 15 kV 16·7 Hz electrification. It notes that the 'slight modification' to add a multi-system capability would also enable the units to operate in Austria, Switzerland, Sweden, or Norway.
Leo Express told Railway Gazette on December 1 that it was starting to restore services following the coronavirus pandemic. The Czech government had 'implemented significant restrictions on free movement', which had led to a sharp drop in demand, while the international trains to Košice, Kraków and Wrocław had been halted by border closures. Having dropped to 10% of normal, ridership has now returned to around 30%, and the operator anticipated that ridership would be back to 'almost 100% by the end of this year'. Nevertheless, it expected to report losses 'in hundreds of million KC' as a result of the disruption.