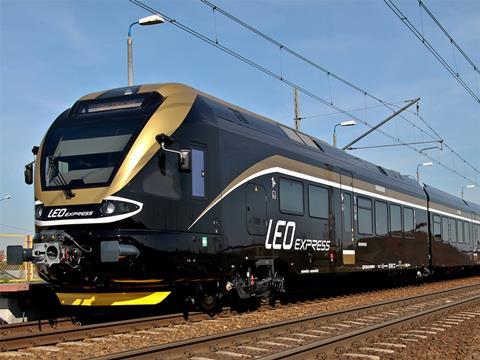 EUROPE: Czech open access passenger operator Leo Express is to restart its Praha – Kraków service on November 30. The service had been launched in July 20 but was suspended and replaced by coach services from October 9 because engineering works on the Polish section of the route were causing extended journey times.
The weekends-only service will run from November 30 until January 7 2019, and then again from March 22. From the start of the new Polish timetable on June 20 the service will run daily.
'The important infrastructure repairs will be completed by summer and our trains will have an appropriate route secured', said Leo Express spokesperson Emil Sedlařík on November 9. 'We will be able to offer a regular daily connection to our passengers'.
Sedlařík said the first private operator to be certified to operate long-distance passenger services on the Polish network would have been operating a daily service already, were it not for the engineering works.