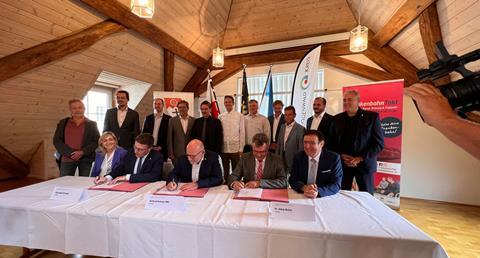 GERMANY: A trial regional passenger service calling at stations between Osterburken and Lauda on the Stuttgart – Würzburg Frankenbahn route is to be made permanent from the December 2023 timetable change.
Following local campaigns, an hourly service operated by DB Regio was launched in December 2019 for an initial three-year trial. This was extended for a further year as the pandemic suppressed travel demand.
An agreement to co-finance a permanent service was signed on July 26 by the Land of Baden-Württemberg and the Main-Tauber and Neckar-Odenwald districts.
The municipal authorities will provide €3·6m/year to cover 40% of the costs. If the number of passengers reaches at least 400 per day in two consecutive half-years, the share paid by the districts will fall to 20%, and if it reaches 500 passengers in two consecutive half-years the local contribution will be eliminated.
It was also agreed that the modernisation of Rosenberg, Eubigheim, Wölchingen and Königshofen stations and the reopening of the closed stations will be accelerated.
Land Minister of Transport Winfried Hermann said 'the current extreme weather events show us how important the transition towards climate-friendly forms of transport is', including in rural areas.
DB Regio's contract to operate Hochrheinbahn services between Basel and Singen totalling 1·1 million train-km/year has been extended from December 2023 until 2029. Baden-Württemberg has the option to terminate the contract from 2027 to align with the completion of electrification of the route.