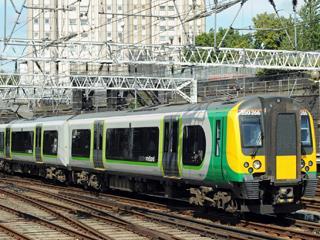 UK: Rolling stock leasing company Angel Trains confirmed on February 29 that it had signed contracts to procure and finance 20 four-car Class 350 Siemens Desiro electric multiple-units for London Midland and First TransPennine Express, 'as part of a contract worth around £145m'.
'The finalisation of these contracts with London Midland and TPE is a significant milestone', said Angel Trains Chief Operating Officer Kevin Tribley. 'The combining of orders for London Midland and TPE with an existing train specification means we can deliver value for money by reducing the whole-life cost of operating the fleets'.
From December 2013, London Midland is to receive 10 Class 350/3 EMUs, three of which will be deployed to increase capacity on the CrossCity line in Birmingham where the service frequency to Redditch is to be increased from two to three trains/h from December 2014. The remaining seven units will increase capacity on commuter services into London Euston, where modifications to the existing London Midland Desiro fleet will enable the maximum speed to be increased from 160 to 176 km/h, cutting off-peak journey times from the December 2012 timetable change.
With a different interior configuration to reflect the needs of long-distance passengers, the 10 Class 350/4 EMUs for TPE are to be deployed on services from Manchester Airport to Edinburgh and Glasgow, following completion of infill electrification between Manchester and the West Coast Main Line south of Wigan. This will enable Class 185 Desiro DMUs to be cascaded to increase capacity elsewhere on the TPE network.
Leasing and operation of the new Desiros is being funded by an increase in support paid by the Department for Transport to the London Midland and TPE franchises, worth £41m. The agreement with TPE includes electrification of the depot at Ardwick in Manchester which is to maintain the Desiro EMUs.
Transport Minister Theresa Villiers said that the additional trains were 'a key part of the major programme of rail capacity expansion we have promised to deliver'. In addition to responding to 'passenger concerns' about overcrowding, they would provide 'an important stimulus to economic growth', she added.