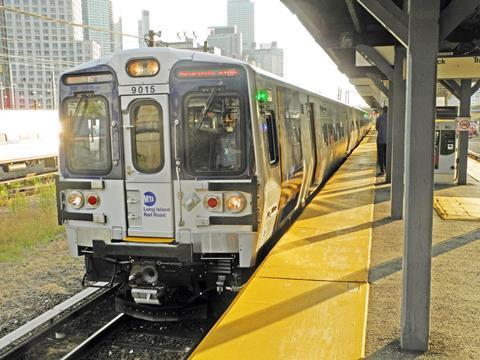 USA: New York commuter operator MTA Long Island Rail Road has put the first of its Kawasaki M-9 electric multiple-unit cars into service. The 750 V DC third rail cars will operates in sets of varying lengths.
'These new cars will offer new amenities and a better environment for our customers', said LIRR President Phil Eng when the first passenger service ran on September 11. 'Even if your train isn't composed of these cars, there's a good chance they will benefit you because as we receive more of them, we will lengthen many of our busiest trains, providing more seats for more customers.'
The M-9 is an evolution of the M-7 and M-8 designs used by LIRR and Metro-North. They have external and internal digital destination displays, electronic displays showing the car number to assist passengers alighting at short platforms, curved arm rests designed to avoid tearing clothing, power sockets at the window seats and push-button operated inter-car doors. There are six extra seats per pair of cars compared to the M-7 fleet, and additional public address speakers in the passenger area. The toilets are designed so that there is no need for passengers to touch to flush the toilet, dispense soap and water or dry their hands.
Positive Train Control is fitted, along with forward-facing, cab and internal CCTV.
MTA awarded Kawasaki Rail Car Inc a framework contract for the M-9 fleet in September 2013, with an initial firm order for 92 cars and a subsequent order for 110 more once funding was finalised.
The first 14 pre-series cars were produced at Kobe in Japan, with eight then tested at the Association of American Railroads facility in Pueblo, Colorado. The remaining 188 cars are being built in Lincoln, Nebraska, with final assembly at Yonkers, New York.
Deliveries had been scheduled to begin in 2017, but manufacturing delays pushed back the date to April 2018, and issues which arose during testing further delayed entry into service. All 202 cars are now expected to be in use by March 2021, allowing the withdrawal of the 142 M-3 cars.
As a result of the delays MTA is withholding $1·4m per car and liquidated damages of $500 per car per day from July.