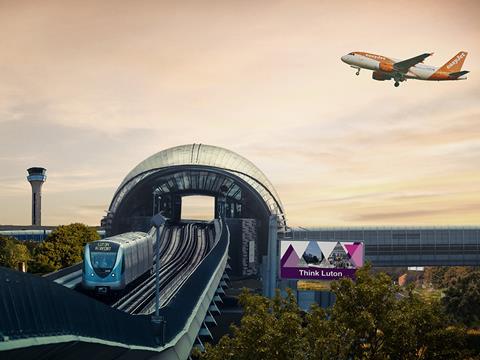 UK: Plans for a £200m fully-automated 'guided light rail peoplemover' linking Luton Airport with Luton Airport Parkway station were announced by airport owner London Luton Airport Ltd on April 15. This would support a £110m project to increase the airport's capacity by 50% to 18 million passengers/year by 2020.
LLAL has appointed Arup to undertake the design and procurement of the peoplemover. It expects to submit a planning application 'in the early autumn', and construction could begin in 2017 for opening by the end of 2020.
The preferred route would start at the Stirling Place commercial development and multi-storey car park, run alongside the Midland Main Line, cross over the Airport Way road and pass through the mid-term car park to reach the central airport terminal.
The peoplemover would prove a 24 h service with 'a seamless 5 min transfer time between Parkway station and the airport terminal', according to Councillor Andy Malcolm, Chair of LLAL. He said the fastest end-to-end journey time of 30 min from London St Pancras station to the airport would be 20 min shorter than the journey between London Liverpool Street and Stansted Airport, and also quicker than the rail journey from London Victoria to Gatwick Airport.
It is envisaged that fares would be included in rail ticket or car parking charges or available for separate purchase, as with the current bus shuttle between the station and the airport.