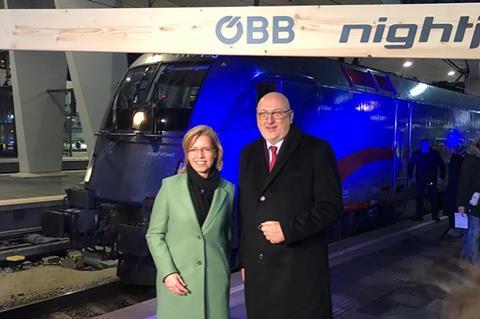 EUROPE: Under the slogan 'lying not flying', Austrian Federal Railways launched its twice-weekly Wien – Brussels Nightjet overnight train on January 19. The ceremony at Wien Hbf was attended by Austria's Minister of Climate Protection, Environment, Mobility, Innovation & Technology Leonore Gewessler as well as members of the European Parliament.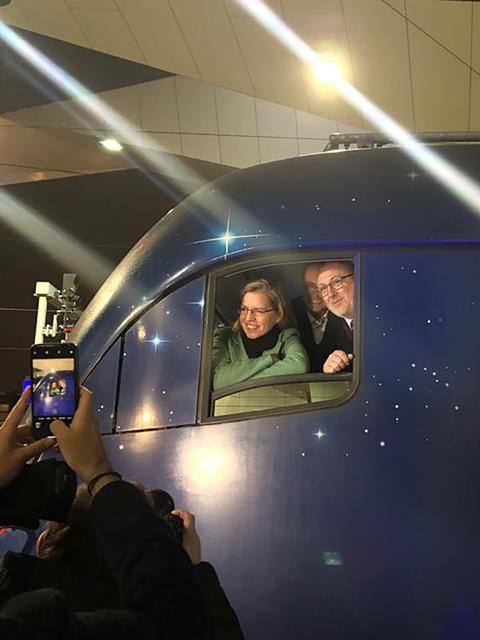 'With Nightjet, we are bringing night trains back to Europe', said ÖBB CEO Andreas Matthä. 'With this service to Brussels we have launched an eco-friendly travel option to the EU capital. In the future, we are planning to introduce more night services in Europe, together with our partners.'
Leaving Wien Hbf at 20.38, the service runs via Nürnberg and Köln to reach Brussels Midi at 10.55 the following morning. End to end journey time is 14 h 7 min. Departures from Wien are on Sunday and Wednesday, with the eastbound trains leaving Brussels on Monday and Thursday.
The first sleeper train to serve the Belgian capital since the cessation of DB's former Paris – Berlin train in 2008, the Brussels service has been created by diverting the Düsseldorf portion of Nightjet's long-established Wien – Hamburg Euronight train beyond Köln. Through cars also run to Brussels from Innsbruck, bringing the number of overnight origin-destination pairings served by ÖBB and its partner railways to 27 routes.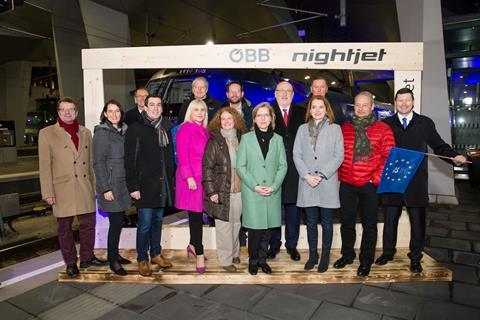 'To fight the climate crisis, we have to change from planes to trains. This requires railway operators such as ÖBB to continue to expand the night train network', said Alexander Egit, Executive Director of Greenpeace for Central & Eastern Europe.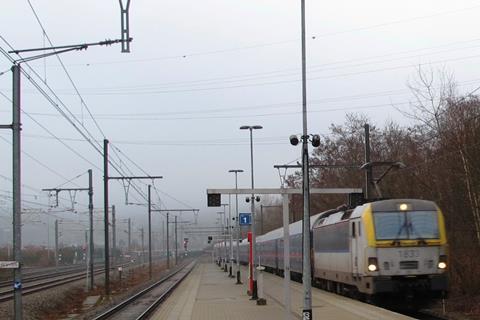 Hauled by an SNCB locomotive from Aachen, the inaugural train was welcomed into Brussels Midi on December 20 by SNCB CEO Sophie Dutordoir.
According to ÖBB, ridership on its night train network already avoids 12 000 short-haul flights per year. The operator estimates that the direct service to Brussels will have a carbon footprint of around 40 kg of CO2 per passenger, against 410 kg by air. The Austrian Airlines CO2 offsetting calculator puts flight emissions at 101 kg.