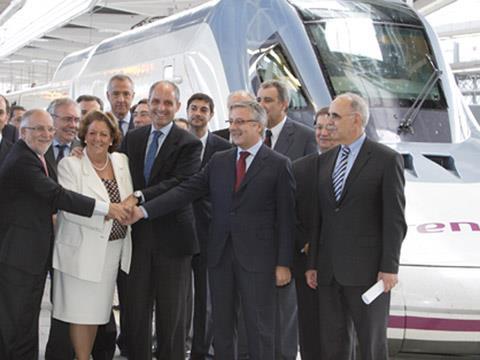 SPAIN: High speed services are due to start running from Madrid to Cuenca and Albacete on December 15, and to Requena-Utiel and Valencia on December 18, Development Minister José Blanco has announced.
On October 13 Blanco joined ADIF President Antonio González, RENFE President Teófilo Serrano and local politicians onboard the first test train to carry passengers on the new route, operated with a Class 112 trainset over the 98 km from Hoya de Roda to Valencia.
Blanco said that the opening of the high speed line would see the greatest economic transformation for the region since the railway had first reached Valencia in the 19th century.
Investment of €5·12bn by the ministry in building the new route over the period from 2004 to 2010 had generated turnover of €10·37bn and had created 105 720 direct or indirect jobs. A further 136 226 jobs and €9·06bn are expected to be generated by the new line in 2011-16.
High speed services are expected to carry 3·6 million passengers in their first year of operation, with four in 10 journeys between Madrid and Valencia made by rail. As well as 800 000 new journeys, 55% of passengers currently travelling by air are expected to transfer to rail, compared to 25% of those travelling by private car and 5% of coach passengers.
The Madrid - Valencia high speed line project was described in detail in the October 2010 issue of Railway Gazette International.