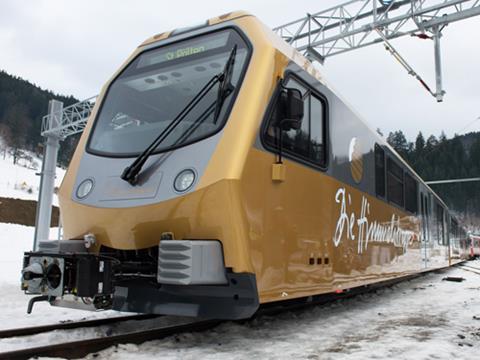 AUSTRIA: More than 2500 people attended celebrations at the Mariazellerbahn's Laubenbachmühle depot on December 16 to mark the unveiling of the first of nine low-floor electric multiple-units which Stadler Rail is supplying for Austria's longest narrow gauge railway.
Bishop of St Pölten Klaus Küng and Superintendent of the Evangelical Church in Niederösterreich Paul Weiland named the first unit 'Die Himmelstreppe' (Stairway to Heaven), a name chosen for the fleet to reflect the line's terminus in the pilgrimage centre of Mariazell. The branding for the new trains was developed by Hannes Rausch and includes a gold livery with 'Stairs to Heaven' logo.
Designed to accommodate tourists as well as regular passengers, the 2 650 mm wide three-car articulated EMUs offer 116 seats in one class, plus 11 folding seats and space for up to 12 bicycles, prams, luggage or up to 100 standing passengers. One of the two toilets is wheelchair-accessible. The EMUs are designed to operate at up to 80 km/h, and are expected to bring a reduction in journey times on the mountainous route when they enter service by December 2013.
From Easter 2014 the EMUs will haul panoramic coaches during the tourist season. Four 16·6 m long panoramic cars are on order, and will have 36 first class seats arranged 2+1.
The €65m order for new stock was placed by transport authority NÖVOG in December 2010 as part of a €117m programme to modernise the 85 km route between St Pölten and Mariazell.
The includes modernisation of the 760 mm gauge track and infrastructure (€20m) along with the unusual 6·5 kV 25 Hz electrification (€7·5m), signalling systems (€4·5m) and depot and buildings (€20m). The aim is to increase ridership on the line from 500 000 to 700 000 passengers a year.