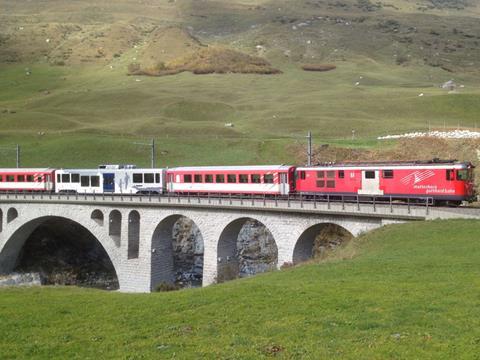 SWITZERLAND: The first of 11 low-floor coaches ordered to increase train capacity and improve facilities for passengers with reduced mobility entered traffic on the Matterhorn Gotthard Bahn on October 11, after a formal unveiling two days earlier.
The air-conditioned coach built by Stadler Rail's Bussnang plant has wide doors, folding steps and a wheelchair-accessible toilet. The first two coaches have now been delivered, and the rest will gradually enter service so that every MGBahn train between Visp and Disentis meets current accessibility standards by February 2014.
The coaches form part of what MGBahn says was its largest ever rolling stock order, a December 2011 contact worth SFr106m for Stadler Rail to supply the 11 low-floor coaches, one four-car and six three-car Komet EMUs and four cars to lengthen existing EMUs.