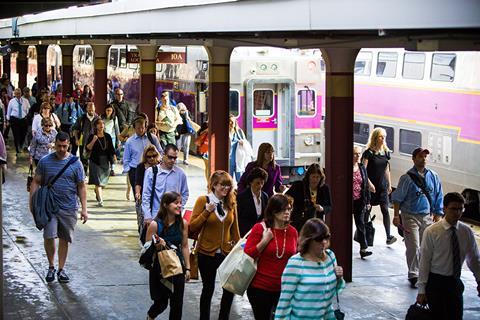 USA: Massachusetts Bay Transportation Authority's Fiscal & Management Control Board has approved an extension of Keolis' contract to operate commuter rail services.
The eight-year contract began on July 1 2014, with two two-year options for extension, both of which will now be exercised to take the contract through to June 30 2026. MBTA has the ability to opt out of the extended contract after optional year three (2025).
The extensions will provide MBTA with time to develop a 'transformational' successor contract, with procurement expected to get underway in 2025 so a new contract can be awarded by January 2026, with a transition period of least six months.
'Our main goals are to provide continuity and the best possible service for our commuter rail customers, as well as provide adequate time to plan for a future transformational procurement', said MBTA General Manager Steve Poftak on June 15.
The contract includes a fixed price for a specified level of service, with penalties related to on-time performance and passenger comfort.
The extension takes into account cost growth with inflation rates reflecting current railway industry relevant cost increases. It also include incentive payments for on-time performance, train crew staffing, and seating capacity, which are worth a potential total of $5m/year in 2021-26.
Measures to address fare evasion include the continuation of a revenue share agreement and the installation of automated fare gates. There will also be investments in MBTA infrastructure and assets, with incentives to accelerate capital investments and increase availability and reliability.
Keolis Commuter Services CEO & General Manager David Scorey said the extension 'balances taxpayer and passenger needs as it keeps costs low while also enhancing the passenger experience, including a focus on providing more capacity, further increasing on-time performance and accelerating capital delivery.'
MBTA is to pilot a Five-day Flex Pass on its mTicket product from July 1, offering five days of travel within a 30-day period. 'Travel patterns are changing and many employers are exploring new ways of working like staggered schedules and telework policies', MBTA said. Its new fare product aims to serve passengers whose commutes may change following the pandemic.