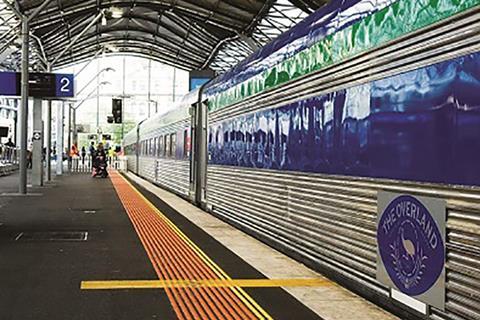 AUSTRALIA: The Victoria state government has agreed to provide A$3·8m/year to ensure the continued operation of The Overland passenger train between Melbourne and Adelaide for the next three years.
Around 200 000 passengers/year use the twice-weekly daytime service, which takes 10½ h to cover the 828 km route. The train's future had been in doubt since the government of South Australia decided in 2018 to stop providing an annual contribution of A$330 000, citing low passenger levels and the availability of alternative transport options for regional communities. Victoria agreed to provide short-term funding to ensure continued operation during 2019.
Originally launched in 1887 as the Intercolonial Express, the Melbourne – Adelaide train is now managed by leisure travel operator Journey Beyond Rail Expeditions, formerly known as Great Southern Rail. The service has been suspended since March 24 because of the coronavirus pandemic, but is scheduled to restart on September 14.
'We're proud to be preserving the iconic Overland train – giving certainty to regional jobs, regional tourism and regional Victorians who rely on this important connection', said Victoria's Minister for Public Transport Ben Carroll when the three-year funding agreement was announced on July 1. 'We've listened to councils and communities in western Victoria, who have told us The Overland is a top priority when it comes to public transport services in their region.'