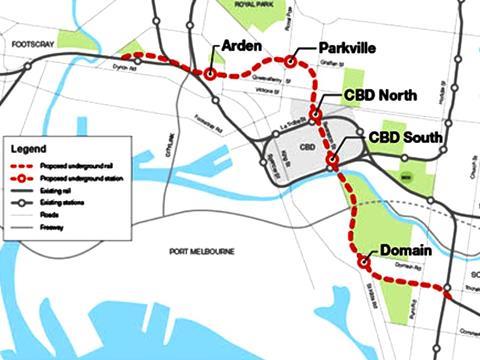 AUSTRALIA: Victoria Premier Daniel Andrews and Transport Minister Jacinta Allan announced on February 16 that a new authority is being established to plan Melbourne's long-proposed cross-city rail tunnel.
The Melbourne Metro Rail Authority has been allocated an initial budget of A$40m to develop proposals for the 9 km link, with a view to calling expressions of interest in 2016. Total cost of the project is put at between A$9bn and A$11bn, with construction to start in 2018 for completion by 2026.
Intended to connect the proposed Airport branch and the Sunbury line northwest of the city to the Cranbourne and Pakenham lines in the southeast, the cross-city rail link is a key element in Public Transport Victoria's long-term rail development strategy. It would relieve the existing four-track City Loop, releasing capacity for enhanced services on other suburban routes. Welcoming the funding announcement, PTV Chairman Ian Dobbs said the project would create an 'iconic' tunnel.
Announcing a go-ahead for the airport branch last year, the state's previous coalition government had recommended that the cross-city tunnel should be routed via Southern Cross and Fisherman's Bend to serve the Docklands development zone to the west of the centre. However, the Andrews government elected in November has reverted to PTV's original proposal. This would see the north-south link running under Swanston Street, interchanging with the City Loop at Melbourne Central and Flinders Street.
Diverging from the Sunbury line between Footscray and South Kensington, the line would run eastwards through stations at Arden and Parkville, before turning south to run below Swanston Street and St Kilda Road. After the two central stations, provisionally labelled CBD North and CBD South, a fifth station would serve the busy tram interchange at Domain. From here, the line would turn east again to join the Cranbourne line at South Yarra.
Although the current federal government has refused to fund urban transport projects, Andrews said he hoped that around a third of the cost could be met by Canberra, which had previously pledged A$3bn for the now-cancelled East Link motorway tunnel. Another third would be raised from private investors, leaving the state to fund the remaining third. Allan added that an updated business case and the reference design would be completed and published by the end of this year.
According to the Premier, the tunnel project would create 3 500 jobs and 'double' the capacity of the suburban network to accommodate up to 25 000 more passengers in the morning and afternoon peak periods.