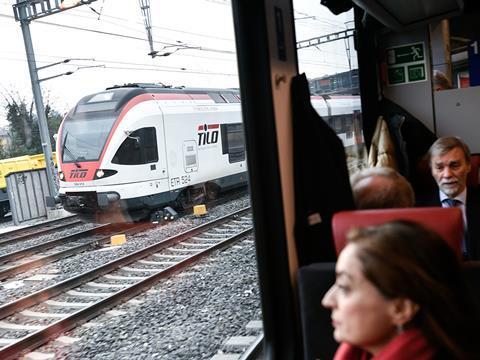 EUROPE: Regional train operator TILO began revenue passenger services on the 17·7 km cross-border line between Mendrisio in Switzerland and Varese in Italy on January 7.
This followed an inauguration ceremony on December 22, when guests included President of the Swiss Confederation Doris Leuthard, Italian Minister of Transport Graziano Delrio, regional officials and railway managers.
The line is used by TILO services S40 from Como to Varese and S50 from Bellinzona to Varese, each running hourly. From June 10 service S40 will be extended to Milano Malpensa airport every two hours.
The Mendrisio – Varese link was developed following the signing of an initial agreement by Ticino canton and the Lombardia region in 2000. Construction got underway in December 2008 on the Swiss side and in July 2009 on Italian side. However the project was beset by disagreements between the parties and problems with contractors on the Italian section.
The first 3·6 km from Mendrisio to Stabio was originally built in 1926 and was reopened as part of the project in 2014. A new 6·4 km cross-border link has been built from Stabio to Arcisate at cost of €260m, connecting with the 7·7 km Varese – Arcisate line which had been out of use since 2010. Civil works were undertaken by Salcef, with railway systems from CEIT and Alstom and supervision by Italferr.
The construction work included a tunnel between Induno and Varese, a bridge over the River Laveggio and stations at Stabio, Gaggiolo, Induno-Olona and Arcisate. The grade-separated alignment is suitable for 100 km/h running, and the boundary between the Swiss 15 kV 16·7 Hz and Italian 3 kV DC electrification systems is located several hundred metres inside Switzerland.