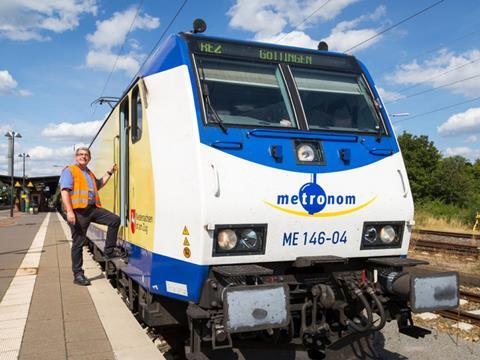 GERMANY: Following a European tender which attracted several bids, the Niedersachsen, Bremen, Hamburg and Hannover transport authorities have jointly awarded incumbent Metronom the next contract to operate Hanse-Netz and Uelzen-Göttingen passenger services.
The contract runs from December 2018 until December 2033 and covers five services:
RE2 Göttingen – Hannover – Uelzen;
RE3 Hannover – Uelzen – Hamburg;
RE4 Hamburg – Bremen;
RB31 Hamburg – Lüneburg;
RB41 Bremen – Hamburg
Niedersachsen transport authority LNVG said Metronom's bid offered the best value for money, with more services to be provided and at a lower cost to taxpayers. The contract covers the operation of almost 8·6 million train-km/year, around 350 000 train-km/year more than at present, with earlier and later services as well as through Hamburg – Hannover services without requiring a change in Uelzen.
Metronom will continue to lease the current fleet of Bombardier electric locomotives and 180 double-deck coaches from LNVG, with five-coach trains to be lengthened to six cars. LNVG is planning a five-year refurbishment programme which would include fitting power sockets, wi-fi and CCTV.
Metronom has operated the services since 2003, and winning the next contract was 'great news for the company, our employees and our passengers', said Commercial Director Lorenz Kasch. 'We put all our experience, our know-how and our passion for railways and for Niedersachsen into the offer.'