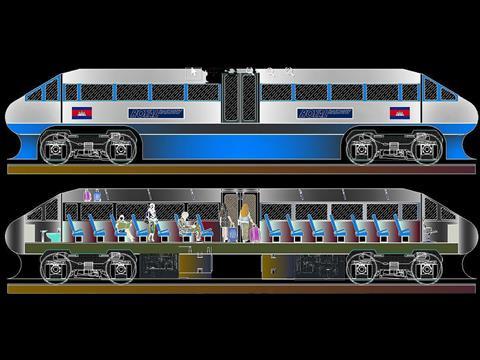 CAMBODIA: Revenue services on the new rail link to Phnom Penh International Airport are expected to begin running with effect from the Khmer New Year on April 10, Hoeurn Somnieng, deputy director of the cabinet at the Ministry of Public Works & Transport announced on March 2.
Test running has begun on the 1·6 km branch which is being built to connect the airport with the existing metre-gauge network, using materials and equipment supplied from China. The branch diverges from the Phnom Penh – Sihanoukville main line near the Taing Korsang Khang Tboung Pagoda, around 8 km from the capital's main station, and runs along 105K Street to reach a station outside the airport's main terminal. The new terminus is currently 45% complete and due to be finished by the end of March, along with the final 330 m of track.
Operating concessionaire Royal Railways has ordered three diesel railcars from Mexico to operate the airport service, which the ministry hopes will reduce traffic congestion in the area. However, CEO John Guiry told Railway Gazette on March 12 that existing locomotives and rolling stock could be deployed for the start of services in April if the new trains have not been commissioned in time.
Following the introduction of the railcars, RR expects to operate two trains/h in each direction. End-to-end time for the 10 km journey should be around 25 min, which would be competitive with the current journey time by car or motorised rickshaw. Guiry says free travel will be offered until the end of June to encourage ridership.
Trains are also expected to start running in April on the first section of the rehabilitated northern main line between Battembang, Sisiphon and the Thai border at Poipet, according to Minister of Transport Sun Chanthol. Work on the remainder of the line between Phnom Penh and Battambang is to be completed by the end of this year, the ministry anticipates.
Read our interview with John Guiry about developments at Royal Railway in the May 2017 issue of Railway Gazette International, available to subscribers in our digital archive.