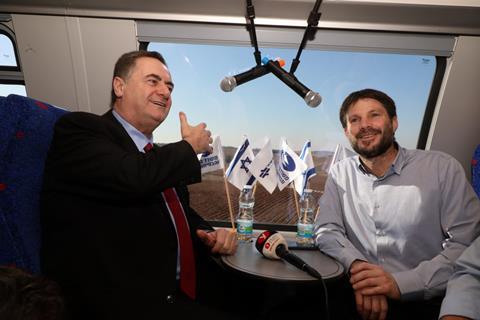 ISRAEL: To mark the start of regular electric through services between Tel Aviv Hahagana and Jerusalem Navon via the A1 fast line on December 21, Israel Railways operated its first passenger-carrying train on December 18.
On board the inaugural trip were Minister for Transport & Road Safety Bezalel Smotrich and his predecessor Israel Katz, now Minister of Foreign Affairs, together with ISR General Manager Michael Maiksner.
Since line to Jerusalem Navon opened in September 2018, it has been served by a shuttle from Ben Gurion Airport, where passengers have been required to change to reach other destinations. Despite a limited capacity of 400 passengers/train, the line has now carried more than 3 million passengers, giving a daily average of about 10 000 users.
The completion of electrification works has allowed the trains to start running through to Tel Aviv Hahagana; in future they will be extended to Hashalom and Savidor/Central, while ISR will begin operating longer trains to increase capacity.
Maiksner said the launch of through services was 'an important achievement' for ISR, and 'an impetus for our development programme', which includes the gradual replacement of the diesel fleet by electric trains. Smotrich thanked both Katz and ISR for their 'far-seeing vision', in building the A1 line, which he said was helping to bring Jerusalem and Tel Aviv closer together.