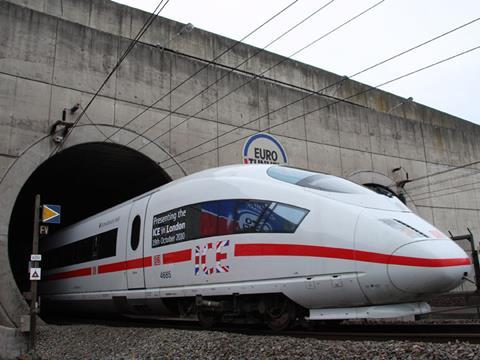 EUROPE: Welcoming the Technical Opinion on safety in the Channel Tunnel issued by the European Railway Agency on March 21, Deutsche Bahn's Board Member, Passenger, Ulrich Homburg said he was 'optimistic' that the Intergovernmental Commission would approve the operation of ICE trainsets through the Tunnel in 'early summer this year and before the August break'. This would clear the way for DB to launch its planned services from London to Frankfurt and Amsterdam in 2013, he predicted.
Describing the report as 'an important milestone', DB said the IGC's proposals 'to amend their safety rules' as outlined in March 2010 'have now been found to be unobjectionable by ERA'. DB believes 'the use of trains with distributed power is no longer prohibited', and 'no objection was raised to the use of shorter and coupled trains'.
DB expects that 'the formal implementation of the new safety rules by the IGC could occur imminently'. In fact, it is Eurotunnel's responsibility to draw up and submit the new operating rules for endorsement by the IGC.
Homburg said the report 'confirms that we are heading in the right direction', and that 'the evidence we agreed to provide the IGC is sufficient to demonstrate the safe operation of our trains'. However, he accepted that 'we are only half way there'. Further work by DB will focus on the characteristics of shorter trains, following the successful evacuation trials in the Channel Tunnel with two coupled ICEs last October. Homburg said a Swiss engineering consultancy involved in safety assessments for the 57 km Gotthard base tunnel was currently compiling an independent risk assessment which would be 'handed over to the IGC shortly'.
Having previously committed to accept the ERA's findings, the French government continues to voice its concerns over the use of distributed traction.
Confirming on March 22 that Transport Secretary Thierry Mariani had 'taken note' of the Technical Opinion, the Transport Ministry pointed out that ERA itself had explained that 'no technical study of safety was carried out'. Thus, 'it does not provide an opinion on the railway technology, but on the legal methods for applying European safety standards to infrastructure built before their adoption.'
The ministry added that ERA 'recommends that a series of more precise studies should be carried out, relating inter alia to fire evacuation scenarios. In particular, this work would evaluate requirements for minimum train length, to ensure the evacuation of passengers in complete safety.'
In regard to distributed traction, Mariani said it was 'important to remember that the opinion issued by ERA does not recommend a particular traction system, but demands that the safety objectives are guaranteed. On the basis of this opinion, it is only by starting from preliminary safety studies that requests for authorisation will be examined', he insisted