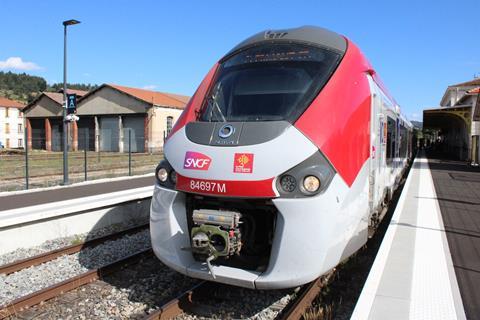 FRANCE: The Occitanie région has directly awarded SNCF Voyageurs a €4bn contract to operate regional passenger trains for 10 years, and has set a target of increasing ridership from 80 000 to 100 000 passengers/day as soon as possible.
President of the région Carole Delga said rail is 'the vertebral column of mobility' in the area, and the authority has a trusting but demanding relationship with the national operator.
The contract was officially signed in early September, backdated to a start date in March. It was signed with SNCF Voyageurs, but involves the wider SNCF group including SNCF Réseau and SNCF Gares & Connexions. Delga said the contract's payment structure could see SNCF repay up to €9m/year in the event of poor performance, 'the highest level in France'.
More regional trains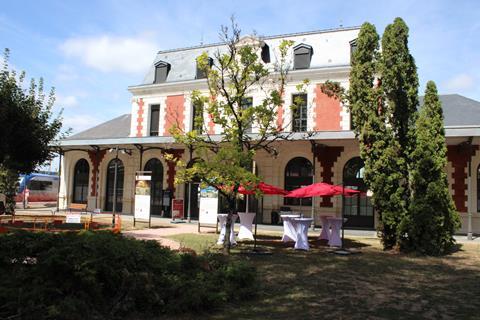 The previous operating contract saw a 35% increase in services in the région, including the revival of passenger services on the right bank of the River Rhône which Delga said had proved a success by carrying 75 000 passengers/day. The second phase of this reopening is planned for 2026.
A 24% increase in the number of services in the région is planned during the latest contract, including on the Toulouse – Figeac, Toulouse – Rodez, Toulouse – Agen and Cerbère – Nimes – Avignon routes. New stations will be built to interchange with the future Toulouse metro line C.
Planned reopenings as part of the région's €880m rail plan include Montréjeau – Luchon by the end of 2024, Alès – Bessèges in 2027-28 and Rodez – Sévérac and Limoux – Quillan.
The région will also provide €10m in 2023-27 for the modernisation of the section of the Paris – Limoges – Toulouse line in Occitanie.
Regional services from Perpignan to Barcelona are planned for 2031, and Occitanie also wants to see the introduction of a direct inter-city service from Toulouse to Barcelona, with as short a journey time as possible to compete with flying.
Meanwhile, a direct service from Toulouse to Clermont-Ferrand restarted on July 8 following the rebuilding of Figeac signal box. In a move which is thought to be a first for France, the region has bought the station building at Figeac to enable it to accelerate a planned €4m rebuild.
Delga said price is a key factor for people decided whether travel by rail. Fare reductions have been introduced for young and older people, with 70 000 teenagers benefiting from an offer which provides free travel once they have paid for 11 journeys in a month. A €1 ticket offer was also a success, with 800 000 sold this summer.
Investment in rolling stock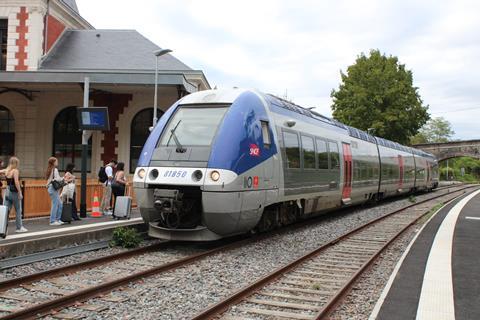 The operating contract includes €540m of investment in rolling stock, with the région to acquire 18 new Alstom Regio 2N double-deck EMUs.
Occitanie and Nouvelle-Aquitaine have jointly formed a special-purpose company called Société Publique d'Investissement Interrégionale dans les Transports to acquire rolling stock, and they expect SNCF to improve the productivity and reliability of the regional fleets.
SNCF's existing local fleet of 83 Bombardier AGC electro-diesel and electric multiple-units will be refurbished to increase capacity to the equivalent of 86 trainsets, Jean-Luc Gibelin, Occitanie's Vice-President for Transport & Mobility, told Railway Gazette International. He said an Alstom Régiolis hydrogen train would be deployed on the Montréjeau – Luchon route by the end of 2024, and three AGC battery-electric units would be introduced on the Nimes – Vauvert line. A maintenance centre is to be built at Narbonne.
Studies are also underway for the renewal of the rolling stock on the 63 km metre-gauge Petit Train Jaune tourist railway between Villefranche-de-Conflent and Latour-de-Carol.