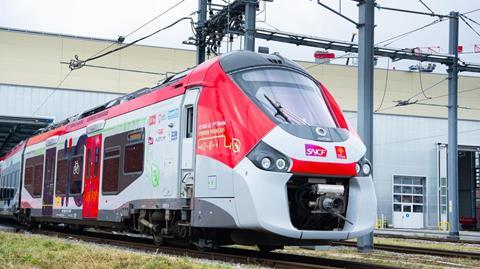 FRANCE: SNCF Voyageurs is seeking authorisation for the passenger operation of a Coradia Polyvalent electro-diesel multiple-unit which has been retrofitted with batteries to support emission-free operation on non-electrified or partly-electrified lines.
The application to authorisation body EPSF follows the completion of testing under real-world conditions on the Toulouse – Mazamet and Toulouse – Rodez routes.
The tests 'show that hybridisation of diesel trains is a realistic solution, both technically and economically, for reducing energy consumption and greenhouse gas emissions', said Benoît Carniel, Managing Director of Alstom's Tarbes plant, on June 14.
Commercial services on the two routes in Occitanie are planned for the end of 2023, followed by operation in the Nouvelle-Aquitaine, Grand Est and Centre-Val de Loire regions next year.
More widespread use of the technology would be subject to agreement with regional transport authorities.
Conversion project
The electric-diesel-battery regional train retrofitting project was launched in 2018 by SNCF and Alstom, with the support of four French regions, including Occitanie which provided a Coradia Polyvalent (Régiolis) trainset from its fleet.
The aim is to reduce energy consumption and cut greenhouse gas emissions, without needing infrastructure changes.
Hybrid train project funding, €m
SNCF
3·8
Alstom
3·8
Occitanie
3
Nouvelle-Aquitaine
3
Grand Est
3
Centre Val de Loire
0·25
Total
16·85
The tri-mode train one of three approaches to decarbonisation which SNCF is developing with the various regional authorities, Alstom and CAF, which acquired the Coradia Polyvalent product platform from Alstom in August 2022. The other two are a battery train and a hydrogen train.
The four-car trainset which originally entered service in 2016 has had two of its four diesel engines replaced with lithium-ion batteries. Testing of the energy storage systems was undertaken at Alstom's Tarbes plant in 2020, before conversion of the multiple-unit was undertaken in 2021 at the Reichshoffen plant which CAF subsequently acquired from Alstom in 2022.
One car has been temporarily fitted out as a laboratory for testing, which began in the second half of 2021, initially at Reichshoffen and then at the Vélim test track in the Czech Republic, before trials this year under real world conditions in the Occitanie region.
More than 90% of the braking energy was recovered and used to recharge the batteries, enabling energy savings of up to 20% depending on the route.
The train can run on battery power for 'a few kilometres' without the need to use the engines, which could be useful on partially-electrified lines and for low-carbon journeys in built-up areas.
'In the battle we are waging on behalf of the regions to decarbonise regional trains, we have chosen to invest in hybrid trains, which are a useful solution for reducing CO2 emissions quickly and effectively', said Christophe Fanichet, Chairman & CEO of SNCF Voyageurs.
'Alongside hydrogen and biofuels, hybrid trains are a key part of the range of technologies we are investing in as part of our PlaneTER programme to move away from diesel.'