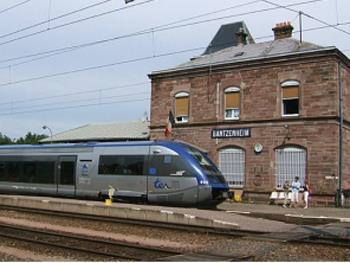 EUROPE: SNCF began operating regular passenger services between Mulhouse in France and Müllheim in Germany with the December 9 timetable change, following the completion of a programme to upgrade the 17·5 km freight route between Mulhouse and the border at Chalampé.
There are now seven TER services each weekday between Mulhouse and Müllheim, where connections are available to Freiburg-im-Breisgau.
As well as reopening stations at Bantzenheim and Neuenburg, RFF has renewed 7 km of track for a maximum speed of 90 km/h and resignalled the single-track route with automatic block, building a new control centre at Bantzenheim and converting three level crossings to automatic operation. Two level crossings have been abolished.
Funding for the €29·5m project was provided by the region of Alsace (46·1%), the French government (33·1%) and RFF (15·8%). The remaining €700 000 was provided by the European Union, including a 2·5% contribution from the TEN-T programme.
Now served by regular passenger trains for the first time in 29 years, from late August 2013 the Mulhouse - Müllheim route will be used by a daily return TGV service between Paris and Freiburg.