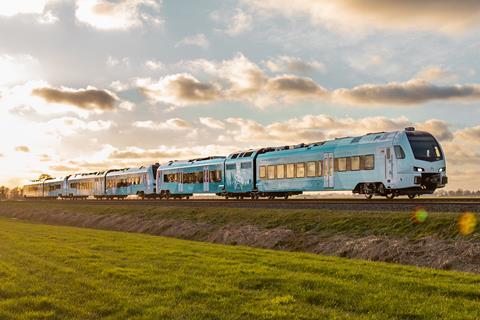 EUROPE: Arriva Nederland has applied for permission to launch an open access passenger service from the north of the Netherlands to Belgium and Paris.
The proposed daily service would connect Groningen with Amsterdam, Rotterdam, Antwerpen, Brussels and Paris from June 2026. Southbound trains would leave Groningen at 05.30 and arrive in Paris at 10.40, while the northbound working would depart at 19.15 and arrive at 00.30. There would also be an Amsterdam – Brussels – Paris service in the middle of the day.
Arriva announced it made the application to the Dutch competition authority Autoriteit Consument & Markt on June 8, ahead of the government's June 10 deadline to apply to operate international open access services in the Netherlands.
Arriva told Railway Gazette International that its focus was on meeting the tight Dutch government deadline; applications for paths in France and Belgium would come at a later stage, and it is too early to confirm what rolling stock would be used or route taken.
Proposed service
Groningen
Zwolle
Almere
Amsterdam Zuid
Schiphol Airport
Rotterdam Centraal
Antwerpen Centraal
Brussels Midi
Paris Nord
Arriva said it would carry all costs and risks associated with the services, without any government concession or subsidy.
It expects to submit future applications for services from other Dutch regions to Belgium and France.
Arriva said the proposed trains could compete with air travel between major European cities.
'International rail has an important role to play in supporting the sustainability agenda by encouraging people away from aviation for shorter distance inter-city connections', said Arriva Group CEO Mike Cooper.
The Deutsche Bahn-owned company said the application draws on its experience of launching a night time Maastricht – Schiphol Airport open access service in December 2022 and a Groningen – Schiphol service in January 2023, and its ownership of UK open access operator Grand Central.
'This type of innovative thinking is good for competition which in turn benefits passengers', said Cooper. 'By using our experience across European markets to grow the potential of rail networks, we have a real opportunity to facilitate changing travel patterns and encourage more sustainable choices.'