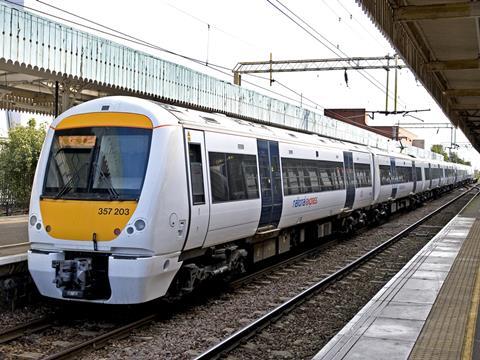 UK: The Department for Transport announced that incumbent National Express had been selected as preferred bidder for the next Essex Thameside franchise on June 27.
The franchise covers a largely self-contained network of commuter services into London Fenchurch Street station from Tilbury, Southend and Shoeburyness.
The contract will run for 15 years from November 9 2014 until 2029, with National Express to pay DfT around £1·5bn, with a net present value of £1·1bn.
Under the new franchise, National Express has undertaken to:
Tender for 17 new four-car trainsets to enter service from 2019;
Refurbish the existing fleet of Bombardier Electrostar EMUs;
Provide free wi-fi on stations and trains;
Introduce a new timetable from December 2015, providing 20% more weekday and 21% more weekend services and 38% more capacity into London during the morning peak, with a quarter of weekend trains to serve Stratford and London Liverpool Street;
Enter into a new performance commitment requiring 90% of trains to reach their destination within 1 min of the timetable by December 2018, with registered smart card users receiving automatic compensation for delays over 2 min;
Form an alliance with infrastructure manager Network Rail to 'reduce running costs and deliver right-time operational performance';
Introduce new ticketing products, including smart cards with planned integration with bus services, contactless payment from 2017, flexible season tickets, carnets, discounted advance, senior and local student fares;
Undertake a £33m station investment programme, with all 26 to be fully accessible and staffed during operating hours.
Over the last 14 years ridership on the franchise operated by National Expresses under the c2c brand has increased by 42% to 37 million passenger-journeys/year, the majority being peak commuter travel to and from central London.
'National Express is very proud of our record on c2c, transforming it from the "Misery Line" into consistently the best performing railway in the country', said National Express CEO Dean Finch. 'We have identified where to invest to enable c2c to be truly tailored to meet customers' needs and to pioneer new levels of service not seen in UK rail. We believe our ambitious plans will transform the franchise again. Today's announcement is good news for passengers, taxpayers and shareholders alike.'