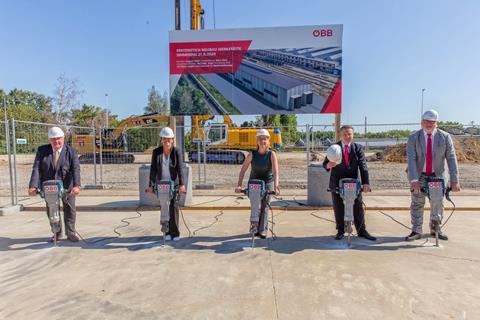 AUSTRIA: Austrian Federal Railways held a groundbreaking ceremony on August 21 to launch the construction of a €40m facility at its Wien Simmering depot for the maintenance of its Nightjet overnight train fleet.
The project includes construction of a 235 m x 24 m building with two tracks, equipment for removing bogies, movable platforms for accessing the train roofs and a train preheating system. Completion is planned for early 2022.
The Nightjet network currently comprises 19 routes. Speaking at the groundbreaking, Federal Minister for Climate Action, Environment, Energy, Mobility, Innovation & Technology Leonore Gewessler said Wien was already the EU city with the most night train services, and ÖBB CEO Andreas Matthä said the new depot would facilitate further expansion of the services.
A service to Brussels was introduced earlier this year, and Amsterdam is set to return to the European night train network in December; ÖBB is co-operating with NS to offer a daily service from Amsterdam to München, Innsbruck and Wien.
In August 2018 ÖBB ordered 13 seven-car Nightjet trainsets from Siemens Mobility for €250m. These are to be deployed on overnight services from 2022, starting with routes to Italy where new fire safety standards are being introduced.
This month the government gave ÖBB the go ahead to purchase a further 20 seven-car Nightjet trainsets and locomotives at an estimated cost of €500m.