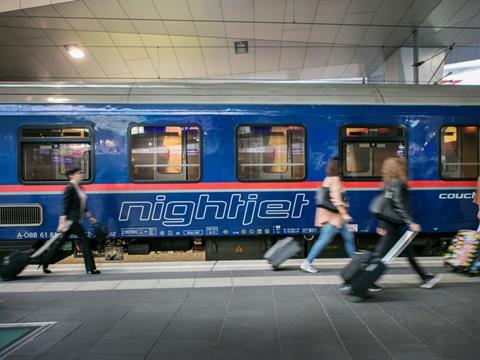 INTERNATIONAL: Regular overnight trains will return to the Netherlands with effect from the December 2020 timetable change, with the launch of a daily service between Amsterdam, München and Wien, State Secretary of Infrastructure & Water Management Stientje Van Veldhoven announced on October 10.
Citing an increase in demand from international night train passengers, not in the least in the wake of the flygskam anti-flying movement, the Dutch government has allocated €6·7m to support the resumption of night train operations between 2021 and 2024. The last overnight train to Amsterdam was withdrawn in December 2016, when DB abandoned its CityNightLine network.
Under a co-operation agreement between NS and ÖBB, the current Nightjet service from Wien to Düsseldorf will be extended to Amsterdam via Arnhem. End-to-end iourney time is expected to be around 14 h. Van Veldhoven said other carriers had expressed interest in exploring the potential for international night trains to and from the Netherlands, but none would be able to offer a comparable service before 2023. Hence the government's agreement to subsidise the Nightjet service until 2024.
Noting that NS had seen a 13% increase in international ridership this summer compared to last year, she said the government was aiming to attract around 2 million more passengers to rail for intra-European journeys of up to 6 h; this would include the thrice-daily Eurostar services to and from London.
Meanwhile, ÖBB CEO Andreas Matthä has confirmed the operator is looking to trial an extension of the Nightjet network to Brussels from January 2020. This would also be formed by an extension of the Wien/Innsbruck – Düsseldorf service, and would initially operate two days per week, with a view to launching a daily service from the end of next year in conjunction with the Amsterdam train.