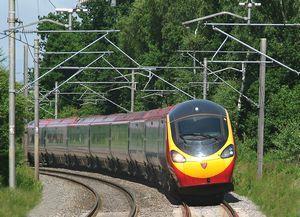 UK: The Department for Transport announced on March 24 that it had shortlisted four bidders that will be invited to tender in May for the replacement InterCity West Coast franchise, covering the operation of long-distance passenger services from London to Birmingham, Liverpool, Manchester and Glasgow.
As well as incumbent Virgin Rail Group, the shortlist comprises Netherlands Railways subsidiary Abellio, FirstGroup and a grouping of Keolis and SNCF. Although Veolia had announced plans to bid jointly with Trenitalia and DB/Arriva is reported to have expressed interest, neither group made the shortlist.
The new ICWC franchise is due to start on April 1 2012 and will run for 14 years, with an option to extend for a further year. The ITT to be issued in May will be 'informed' by consultation on the franchise which closes on April 21; DfT says that its objectives will include exploiting 'the full potential of the route' and managing the introduction of new and extended Class 390 tiliting trainsets, as well as achieving 'sustainable value for money'.
'We now look forward to seeing what the government includes in the tender for the franchise', said VRG Chief Executive Tony Collins. 'We intend to submit a very strong bid to retain the West Coast franchise, building on the investment and customer improvements we have made'. Already operating the regional Northern and Merseyrail networks in joint venture with Serco, Abellio said it was 'committed to sharing best practice learnt from our existing networks' as it prepares its first bid for a long-distance franchise in the UK.
Abellio has also been shortlisted for a 17-month contract to operate the Greater Anglia franchise from February 5 2012, alongside Go-Ahead and Stagecoach. Current incumbent National Express Group, which operates the long-distance, commuter and regional services on routes from London to Cambridge, Ipswich and Norwich, said it was 'very disappointed' not to have been shortlisted by DfT.
The ITT for the interim Greater Anglia franchise is due to be issued in April. DfT says the short-term contract is intended to allow time for 'reforms arising from the McNulty review into rail value for money to be properly considered' before a long-term franchise is offered to the market.
DfT expects to announce preferred bidders for both Greater Anglia and ICWC 'in autumn 2011'.
For the inside news and analysis of the UK rail sector every fortnight subscribe to Rail Business Intelligence.