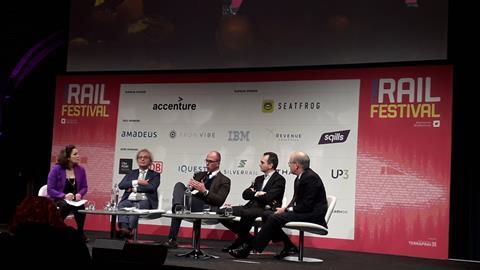 EUROPE: 'Something is really wrong' when airlines can offer flights 'at ridiculous prices' in Europe, said Roger Van Boxtel, CEO of Dutch national passenger operator NS in the keynote opening session at the World Rail Festival in Amsterdam on December 4.
Referring to the UN Climate Change Conference taking place at the same time in Madrid, Van Boxtel asked why it took more than one day to travel by train from Amsterdam to the Spanish capital, adding that this was 'ridiculous'.
Also citing the current 6½ h journey time between Amsterdam and Berlin, Van Boxtel called for the EU to make 'a huge push for high speed lines connecting all cities in Europe'. Blaming authorities in individual countries for being concerned only with domestic rail travel, he saw hope in the young generation wanting to use trains rather than fly.
'There should be no need to fly' between Amsterdam and London, he continued, noting that there were 60 flights a day between the two cities. While Eurostar offers three direct trains a day from London to Amsterdam, a 'small hiccup' was holding up the start of direct trains in the other direction. The treaty was 'sealed but not delivered yet', he said, hoping that it would be signed 'as soon as possible'.
Van Boxtel predicted that 'train travel will double or treble in 10 years', and the question remained how to speed up the process of modal shift. In the meantime, consumers want digitalisation, leading Van Boxtel to warn that if the railway business did not do this, then 'everything will be run by Google'.