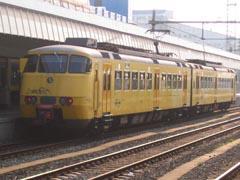 NETHERLANDS: Bidders have been invited to prequalify for a contract to supply single-deck EMUs for national passenger operator NS. The base order would be for vehicles 'with a total capacity of approximately 10 000 to 20 000 seats', with deliveries commencing between October 2016 and October 2017.
The next-generation Sprinter is to be ordered in at least two train lengths, one offering 150 seats and the other between 200 and 250 seats. NS is looking for a modern appearance and 'transparent and open interior', with inter-car gangways to be as wide as possible and no narrower than 2 m. On-train toilets have been specified, following complaints over the lack of facilities on the current generation of Sprinter LightTrain EMUs.
Service speed will be 160 km/h, with 'high acceleration' a requirement as well as 'short stopping times' for 'quick boarding and alighting'. The new EMUs should offer level boarding at platform height, and a level floor throughout the train 'as much as possible'.
Potential options would see a further 17 500 to 27 500 seats delivered by 2024 depending on passenger growth and other factors. A separate spare parts agreement and/or support agreement could be part of the contract scope.
The purchasing party is Dublin-based NS Financial Services Co, a rolling stock leasing company owned by NS Group, which would lease the trains to NS Reizigers.