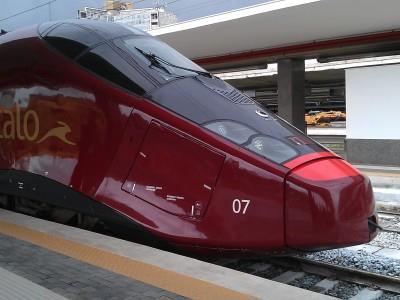 ITALY: With just one week to go before the launch of its first commercial services on April 28, open access operator NTV ran its first preview trips carrying press and VIPs between Roma and Napoli on April 20.
The run gave invited guests an opportunity to sample the AGV trainsets being supplied by Alstom from its plants at La Rochelle and Savigliano. Around 10 of the 25-strong fleet have now been delivered to the Nola depot near Napoli, with eight required for the launch of services.
NTV will initially start with services on the Napoli – Roma – Firenze – Bologna – Milano corridor, but hopes to extend its network to Salerno, Torino and Venezia by the end of the year, by when the whole fleet should be available. At peak times the company expects to have 21 of the 25 trainsets in operation.
Ticket sales for Italo services began on April 25, when the company opened its call centre and online booking facility. Self-service ticket machines are available at Napoli Centrale, Roma Tiburtina, Firenze SMN, Bologna Centrale, Milano Porta Garibaldi and Rogoredo, where the company's Casa Italo customer lounges have been inaugurated over the past three weeks.
To mark the start of services, NTV is planning to offer a 'super convenient' introductory ticket branded as PROMO ITALO, which will be available in limited quantities from April 23.