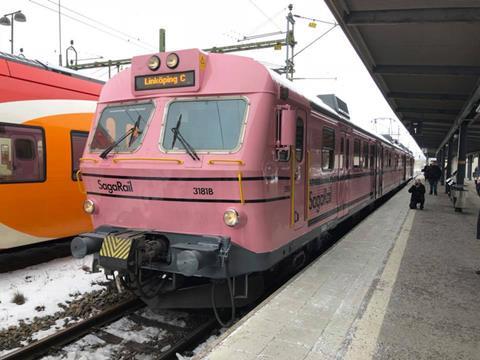 SWEDEN: Private open access passenger operator SagaRail announced on June 20 that it had suspended the Stockholm – Linköping service which it had launched in February. The company said it was not viable to operate the service without being able to sell tickets through state incumbent SJ's online channels.
SagaRail Chairman Mats Nyblom told Railway Gazette that SJ Online has a 'very dominant' position in the Swedish travel market, which makes it 'absolutely essential' to be able to sell tickets through its channels.
Nyblom said SJ Online had declined to sell SagaRail tickets because it believes the new operator's services do not complement its own, a claim which he 'doesn't understand'. SJ Online sells tickets for around 40 operators, with SagaRail and MTR Express being the only rail operators excluded, and Nyblom pointed out that 'even if our very small service was sold out, it would be less than 0·1% of SJ turnover'.
SagaRail has submitted a formal complaint to the competition authority, in the hope that this will force SJ Online to sell its tickets and thus enable the service to restart. However, a full competition investigation could take months, which SagaRail believes would undermine the viability of its business, so it has asked the authority to make an interim ruling that SJ must sell its tickets until a final ruling can be issued.
The ALLRAIL association of new market entrants said SJ's sales channels benefited from inherited brand equity. Most Swedish passengers had grown up only knowing that brand and so turn to it instinctively, ALLRAIL said, with the inclusion of other third party operators such as Transdev meaning it is perceived as being a comprehensive and neutral source of information and ticket sales.
ALLRAIL said new entrants would face 'astronomical costs' to create a comparable level of market awareness, and so the government should insist that the retail channels of the state-owned operator should act in a neutral manner with full transparency.
SJ told Railway Gazette it would refrain from commenting until it saw the formal complaint from SagaRail.