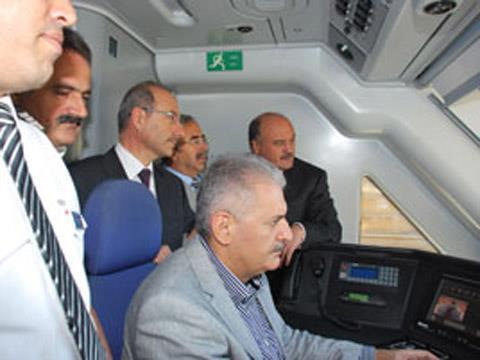 TURKEY: Passenger services on Turkey's second 250 km/h line began on August 24, the day after the Ankara - Konya route was inaugurated by Prime Minister Recep Tayyip Erdogan.
Built at a cost of YTL1bn, the north-south line completes a strategic link in the rail network. Taking the direct 306 km route instead of the previous uncompetitive 688 km circuitous route via Afyon cuts Ankara - Konya journey times from 10½ h to 1½ h. TCDD plans to accelerate its initial timings to save a further 15 min, and increase the service from 10 trains/day to hourly to meet predicted demand.
The first 94 km of the new route shares the Ankara - Eskisehir fast line, branching off at a triangular junction in Polatli to run 212 km to Konya, with seven major bridges, 83 road under and over bridges, 2 030 m of tunnel and a parallel road for security purposes.
Railway systems were supplied by domestic contractor Yapi Merkezi Insaat ve Sanayi under a turnkey agreement. Invensys Rail Dimetronic supplied signalling and train controls systems, managed from TCDD's Ankara control centre, and Kapsch CarrierCom the GSM-R radio backbone. Balfour Beatty Rail was responsible for 25 kV electrification and Areva T&D supplied substations.
Civil works work started in 2006, and an inaugural test train ran on December 17 last year. There were problems with weak soil, but Transport Minister Binali Yildirim said construction period compares favourably with European projects.
Work on the fast line from Eskisehir to Gebze outside Istanbul and the 466 km Ankara - Sivas line is now to be accelerated, with completion envisaged within three years.
The Ankara - Konya project was described in detail in the February 2010 issue of Railway Gazette International, which subscribers can access in the digital archive.