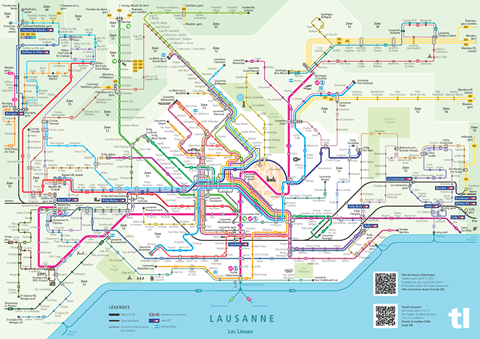 SWITZERLAND: In a bid to make use of public transport easier, operators in the area at the western end of Lac Léman have published maps of their individual networks based on common design standards.
Local rail, tram, bus and lake shuttle and steamer services in Genève, Lausanne, Nyon and Morges are depicted in diagrammatic form using common graphics and cartography.
The maps will be valid with effect from the timetable change on December 11, and are intended to replace earlier maps that used different designs. The operators involved are Transports Publics Genevois, Transports Publics de la Région Nyon-Naise, Chemin de fer Nyon – St-Cergue – Morez, Transports de la Région Morges-Bière-Cossonay et Transports Publics de la Région Lausannoise.
The maps have been compiled by a team from the different operators, using designs developed by architect and mapmaker Jug Cerovic. They also draw on federal recommendations for the provision of public transport customer information. The aim is to make public transport more easily understood and ultimately to drive up patronage.
Maps of public transport in the nearby French town of Annemasse have also been redrawn using the same design features.