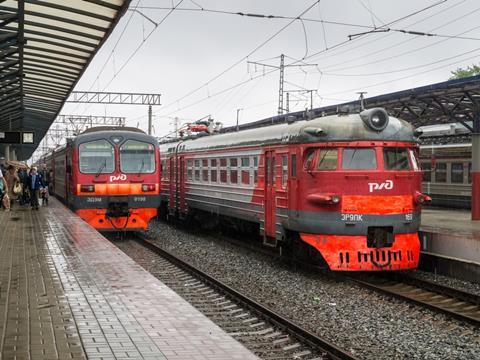 RUSSIA: Nizhny Novgorod suburban passenger operator JSC Volga-Vyatskaya announced on September 10 that its CityRail Priokskaya Line service linking the two halves of the city will become a year-round service with effect from October 15.
The 50 km orbital route was launched in 2013, but unlike the CityRail Sormovskaya Line serving the northwest it only ran during the summer months. Thanks to support from the region's Ministry of Transport & Highways it will now become a regular daily operation and be more closely integrated into the city's public transport network.
Priokskaya Line trains link the main Moscow station on the west bank of the Oka River to the isolated terminus at Prospekt Gagarin on the east bank via a 'semi-ring' route which passes outside the city limits and the common fare zone. The EMUs head west from the main station to Petryayevka and then turn south to cross the river on the existing bridge at Sartakovo. They then run eastwards through Royka to reach Myza and Prospekt Gagarin, where interchange is provided with routes 5 and 9 serving the city centre.
While the end-to-end distance is significantly greater than the 9 km separating the two termini by road, the service is primarily intended to carry workers to and from industrial plants in the Kanavinsky, Avtozavodsky and Prioksky districts to the west and south of the city. During the winter, trains will operate twice a day in each direction on weekdays, leaving Moscow station at 06.12 and 17.10 and returning from Prospekt Gagarin at 17.25 and 18.53.