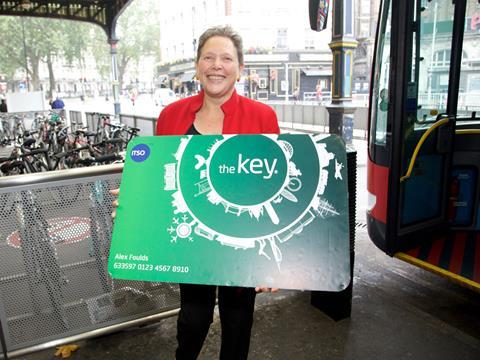 UK: Passengers using the Key smart card issued by train operator Southern and its parent rail and bus company Go-Ahead can now buy tickets to London including weekly, monthly or annual Travelcards which are valid for unlimited travel on public transport within Greater London.
The official launch by Transport Minister Baroness Kramer on September 17 builds on the £65m 'ITSO on Prestige' project to adapt Transport for London's proprietary Oyster smart card technology to read cards meeting the open ITSO standards which the Department for Transport requires train operating companies to use.
Southern says one-day Travelcards are to follow 'early next year' and trials are underway with a pay-as-you-go scheme branded keyGo, but no decision on a public launch has been made.
The launch is 'fantastic news for thousands of our London commuters who can now use their Key smart card for the entire journey to and from work', says Southern's Commercial Director, Alex Foulds. 'We have worked very closely with the Department for Transport in developing this new product and the commitment shown by Transport for London and our suppliers has been crucial in making this the success that it is. This development is another step that paves the way for other train operators' schemes to follow on behind us, by laying a firm foundation for the South East Flexible Ticketing programme to become a reality.'
Travelcards on the Key are currently available for travel from most Southern stations outside Greater London, excluding St Leonards – Ashford International, Nutfield – Tonbridge, Bookham – Guildford and west of Havant. Tickets can be bought online or at station vending machines.